Does Drake have any dogs?
22 February 2021, 17:30 | Updated: 22 February 2021, 17:41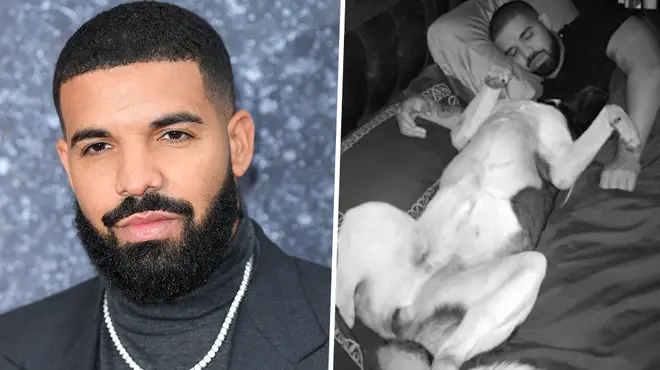 How many dogs does Drake have? Meet the "Laugh Now Cry Later" rapper's pets here.
Drake is quite private with his personal life, but occasionally shares snippets with his fans.
The 34-year-old rapper has built quite a family for himself – including his dogs, and of course his adorable son Adonis.
But who are Drake's dogs, and how many does he have?
Does Drake have any dogs?

Drake rarely shares photos of his dogs, but the rapper definitely does take pride in taking care of them.

The "God's Plan" rapper currently owns two dogs; Diamond, who is an Akita and Winter, who is an American Bully.

Find out more about Drizzy's dogs below.

How many dogs does Drake have?

Drake has two dogs - meet Diamond and Winter.

Diamond

In 2016, Drake released his Views album digital booklet – which included an official debut of his dog Diamond.

The rapper was pictured standing in front of Toronto's stately Langdon Hall, and beside a glossy Rolls Royce in the snow.

Posing with him in matching fur is what appears to be his new buddy, a black and white dog named Diamond.

Meet Diamond.

Picture: Young Money Entertainment/Cash Money Records

Before Diamond's appearance in the booklet, Word On Road shared a photo of Diamond as a puppy.

The dog is an akita, a dog that originates in the mountainous northern regions of Japan.

Drake shares a photo of Diamond taking over his bed.

Picture: Instagram

In July 2016, Diamond stopped by at John Andrews Pet Salon to get pampered for a grooming session, which reportedly costed $120.

Diamond as a puppy.

Picture: Instagram

Winter

For Christmas 2016, Drake was gifted a gorgeous snow white American Bully named Winter.

While the rapper has not shared many photos of Winter, there are some sweet clips of Drizzy sharing kisses with the dog on the MVP Bullies Instagram page.

See a video of Drake and Winter below.

Winter was born at MVP Bullies, who is a world-famous breeder of XL American Bullies. The company is located in Atlanta Georgia.

While most of their puppies sell for around $3-6,000, it is estimated that Winter cost upwards of $20,000, according to Celebrity Pets.