Are Drake And Adele Working On A 'Hotline Bling' Remix?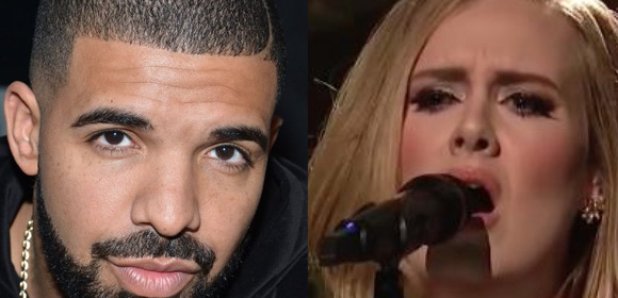 Drizzy and Adele have sparked rumours.
Drake and Adele have both fuelled rumours that they are working on a special 'Hotline Bling' collaboration.
The rapper sent the Internet into a frenzy when he posted an illustration on Instagram showing him standing next to the '25' singer.
He captioned the image: "Me and my main ting just coolin"

However things got interesting when Adele was questioned about Internet meme's regarding her 'Hello' single and Drake's 'Hotline Bling'.
Speaking to etalk, she said: "I really want us to do an official remix [of 'Hotline Bling']. I love Drake. I love Drake so much.
"I even got the coat that's in the video, I got it delivered the other day, I ordered it. The red one."
Twitter has understandably freaked out:
Can u imagine a @Drake and @Adele collab? The world would actually be finished emotionally

— I am not Travis (@Tall_YounGC) November 21, 2015
I PHYSICALLY CANNOT HANDLE A DRAKE X ADELE COLLAB RIGHT NOW I'M SORRY NO

— it me (@coolgurlcool) November 23, 2015
Just thought about what a Drake and Adele collab album would be like and now I can't stop crying.

— Lee-Michael Conway (@LeeMConway) November 23, 2015
@god u know I never ask for much but pls let @Adele & @Drake collab on something for my feelings this winter #amen

— karlita (@karlamadelainev) November 23, 2015
Meanwhile, Drake was beaten by Nicki Minaj to two awards at last night's AMAs in LA.
The 'Anaconda' rapper picked up the prizes for Favourite Hip-Hop/Rap Artist and Favourite Hip-Hop/Rap Album.