Drake Dropped '4PM In Calabasas' And A Real Fire Actually Broke Out In Calabasas
6 June 2016, 12:50 | Updated: 6 June 2016, 13:14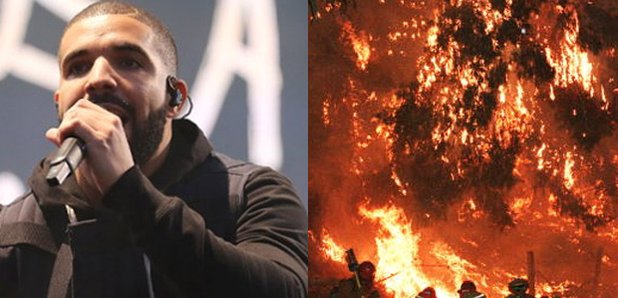 The fire started just after Drake premiered his new track.
Drake's new song '4PM In Calabasas' lit up social media when it dropped on Saturday and has coincidentally tied in with an actual fire in the LA County of Calabasas.
According to CNN reports, a huge fire raged through the area at around 4.15pm – oddly tying in with the title of Drizzy's latest banger.
However the blaze is reported to have happened when a pickup truck hit a power pole, not when Drake unleashed his alleged disses at Puff Daddy.
"Witnesses reported that the truck was traveling at a high rate of speed before colliding into a power pole, causing the pole to fall and a transformer to explode, thus igniting the Calabasas fire," said Deputy Sheriff Jeffrey A. Gordon.
Coincidentally, Drake also lives in County Of Calabasas, along with a number of famous faces including Kanye West and The Kardashian family.
Kylie Jenner covered the event on her Snapchat:
Around 5,000 people were ordered to evacuate their homes in the local area.
However there is currently no news about whether their properties were affected.
What are the chances?!