Drake Takes Shots At Joe Budden On 'No Shopping', Budden Responds With 'Afraid'
18 July 2016, 12:05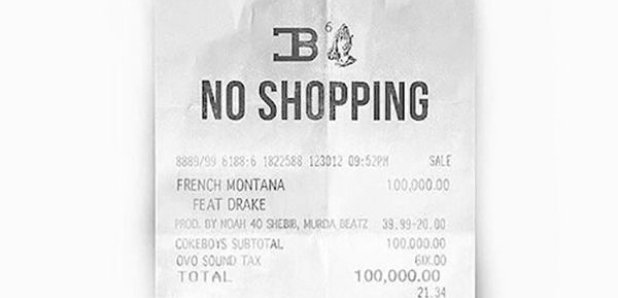 Drake responds.
Drake and French Montana teamed up over the weekend to unveil new song 'No Shopping,' which hears Drake take shots at Joe Budden.
On the track, Drizzy subliminally raps the lyrics; "I'm not a one hit wonder, they know all my stuff/ You let me turn into the n**ga that you almost was/ I done seen a lot of sh*t and I done been in things/ And I never started nothin', I just finish things". Safe to say, they are probably aimed at Budden.
The tracks comes after Budden went for Drake firstly on diss track "Making a Murderer (Part 1)," and then again on "Wake,".
Now that Drake's finally responded, Budden's come back fast with a third diss track ,'Afriad'.
As expected, the internet has reacted and opinion is actually pretty split on who's winning this beef.
I wasn't impressed by Drakes diss towards Joe Budden.i didn't like Joe's diss either. Can #Eminem respond to both? #NoShopping

— Augustus (@Johntoonice) July 18, 2016
@Drake is an ASSASSIN #NoShopping #DissSongsOnTheCharts #JoeBudden

— Sonny B. (@THESonnyB) July 18, 2016
After hearing #NoShopping, the results are in...

Drake: 1

Joe Budden: -2#OVOSoundRadio

— NUFF$AID (@nuffsaidNY) July 16, 2016
Me listening to Drake's verse on #NoShopping #OVOSOUNDRADIO pic.twitter.com/EuaXgHP09C

— Fabio (@TheRealJoshNold) July 16, 2016
Drake never fails... #NoShopping

— Chris Toleno (@ctoleno13) July 16, 2016
I am a fan of the Culture so I enjoy when quality MC's throw Bars at each other! It keeps Hip Hop healthy and competitive #NoShopping #Wake

— NinoPunchlines (@NinoPunchlines) July 16, 2016
it's clear as day that Drake took shots at Joe Budden on #NoShopping but it's clear as day that Joe Budden bodied Aubrey on #Afraid

— WakeThatA$$UP! (@vibezNscribez) July 17, 2016
That instrumental Joe Budden dropped at the end of #Afraid probably made @Drake cry #noShopping

— LeBrown James (@LBRWNJMS) July 17, 2016
How you know you not relevant? When u give 15 min of trax and he give you 8 bars on a feature @JoeBudden @Drake #noshopping #afraid #

— Tarron Adams (@G_TarronAdams) July 17, 2016
Who do you think is in the lead, Drake or Joe Budden? Let us know in the comments.