The Internet Can't Handle That Drake Wore Glasses And A Wooly Jumper To A Game
11 November 2014, 14:30 | Updated: 31 March 2017, 20:26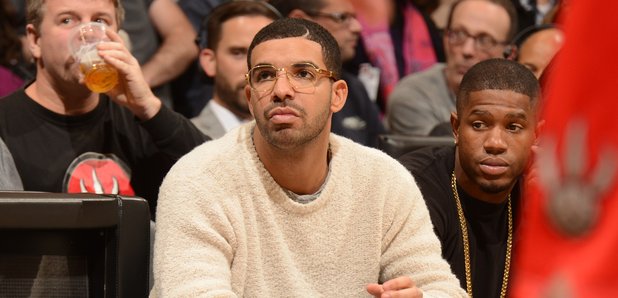 You know those times when Drake fails so hard he wins? Yeah, it's one of those.
Drake went to the Toronto Raptors Basketball game in Toronto and finally caught a break from people talking about his usual front row, fan-boy antics.
But that was only because the internet was busy talking about his fashion choices for the evening.
Drake rockin the wool sweater and the 90 year old grandma glasses pic.twitter.com/09ydJ23x9g

— Justin Anthony (@Justinanthonyyy) November 10, 2014
Inevitably, the 'Drake The Type' jokes began flooding in...
DRAKE THE TYPE TO WEAR HIS GRANDMA'S GLASSES SITTING COURTSIDE AT A RAPTORS GAME pic.twitter.com/HlOdoQ7ScP

— Michael Kolberg (@mikeykolberg) November 10, 2014
And people had some strong (and not very kind) opinions on what Drake looked like.
Why does drake look like he's at the library writing the hottest thesis paper of 2014? pic.twitter.com/fzgmUqsglU

— Boris Yushuvayev (@B_Yushuvayev) November 10, 2014
Drake looks like a mom that doesnt want to take sides when two of her sons are arguing. pic.twitter.com/RHM8NQyu8a

— Adan Figueroa (@5ABIOmatic) November 10, 2014
Drake got that sweater u put on when u gotta take out the trash in the morning and it's cold outside pic.twitter.com/4KO6RVLdvo

— Brad Jordan (@noahvacane) November 10, 2014
Some of the theories that people had as to why Drake would wear such a thing were not that far fetched. (They might be a little far fetched.)
Drake wearing glasses acting as if he's out with his side chick trying to hide his identity. pic.twitter.com/FTU8m64q9C

— Puneet (@puneetsingh) November 10, 2014
Is this wooly jumper famous yet?
Quick! Somebody make a twitter account for @Drake 's glasses. #rtz pic.twitter.com/Eojs3EPbjd

— Since 95 (@since95official) November 10, 2014
Maybe Twitter should cut Drake some slack, sometimes we all need to do things we don't want to do in life.
Drake wearing that one sweater you have to wear on Christmas morning that your grandma knitted you pic.twitter.com/0mL5rcrLC1

— Jungle Larry (@freeman_joe23) November 10, 2014
When your mom chooses your glasses and clothes for picture day... #RTZ #drake #drakesglasses pic.twitter.com/aLYTIV3zRK

— Sarrä (@sarra7s) November 10, 2014
You can't deny that Drake looks snuggly in it though can you?

@mustlovejaws Because who doesn't want another pic of Drake's sweater game?! #sosnuggablepic.twitter.com/TyDk8gRU7f

— Dani (@DaniStalle) November 10, 2014
When all is said and done, Drake is still winning.
you can hate on drake's sweater all you want but he can just burrow into that thing and pretend you don't exist, so pic.twitter.com/01lG6e6VaB

— alyssa bereznak (@alyssabereznak) November 10, 2014