Watch Karrueche Tran Get Emotional About Chris Brown in OWN Interview
29 March 2015, 12:58 | Updated: 29 March 2015, 13:00
Karrueche Tran on Her Love Triangle with Chris Brown and Rihanna | OWN
01:47
Karrueche speaks out on baby royalty, Rihanna and whether she'll take him back.
Chris Brown's ex-girlfriend Karrueche Tran has opened up for the first time since finding out that her on-off partner has fathered a child with another woman.
During a one-to-one interview with Iyanla Vanzant on OWN TV, the model and actress spoke out about how she first met Chris, the time he left her for Rihanna and how she found out that he had fathered a child with another woman whilst they were together.
Karrueche had tears in her eyes throughout the interview as she relived key moments from the last few years of her life with Breezy.
Watch the moment Karrueche opens up about Chris leaving her for Rihanna above and find some quotes from the interview below.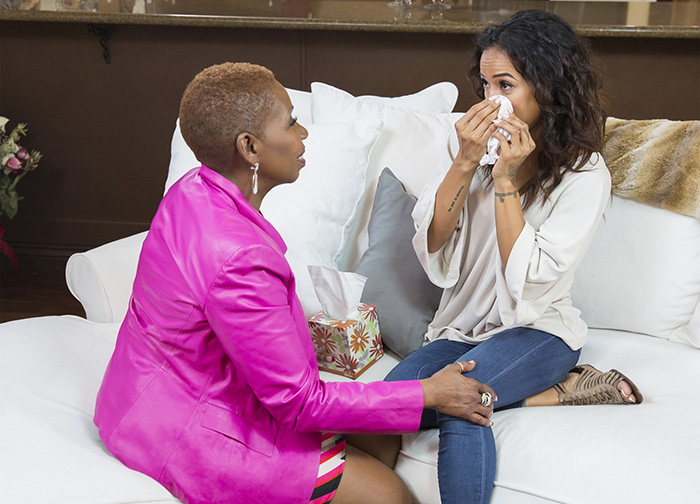 On finding out about Chris Brown's love child:
"Honestly, through social media," she revealed. "He wanted to talk in person. Actually, at the moment that I found out, he was texting me saying, 'I need to talk to you in person.' And then I get online and I see…" Karreuche trailed off, tearing up.
On him leaving her for Rihanna:
"I was under the impression that it was a friend type of… not a friend, but it wasn't what it became to be.... I knew… I didn't want to believe it." Why? "Because I loved him. I've never dated a celebrity, I've never been in the light that way, so I didn't know what to expect."
On whether she will take him back:
"He's said he's sorry. He's dropped flowers off. He's sorry for everything. He's sorry for what he's put me through." But, she said; "There ain't no making up right now. There's no making up."