People Are Furious With Chris Brown For Commenting On Rihanna's Crop Over Selfie
8 August 2017, 10:21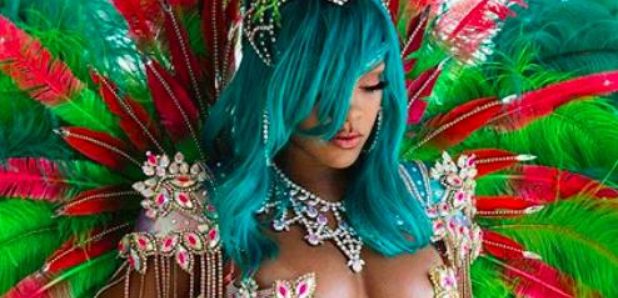 "Oh no baby, what is you doin?"
Chris Brown was spotted leaving a comment underneath one of Rihanna's recent selfies and people are not happy.
Fans of the 'Wild Thoughts' singer were left furious after Breezy commented with a sideways eye emoji underneath the sizzling snap, which was taken at this year's Crop Over festival in Barbados.
RiRi's ex-boyfriend, who infamously assaulted her back in 2009, posted the icon shortly after the songstress shared the image of her skimpy jewelled costume.
Donning a bedazzled headpiece and a pair of green and pink plumed wings for the occasion, Rihanna looked every inch the festival goer in her celebratory outfit.
However, fans remained outraged by Brown's actions, with some describing him as "disgusting" and "psychotic".
"Chris Brown needs to leave Rihanna alone FOREVER." wrote one Twitter user.
Can we all give a collective "BOIII WTF U THINKIN" to Chris Brown's comment on Rihanna's insta???? pic.twitter.com/GoFkQLoAWS

— lisa newcar (@wesstrobe) August 8, 2017
can u believe chris brown has the audacity to even THINK about Rihanna let alone comment on her fucking instagram picture. Scummy ass bitch

— frankie (@ffrankiedemarco) August 8, 2017
chris brown is an obsessive and abusive disgusting man who rihanna has absolutely no interest in, he's fucking psychotic

— dani (@runwayrih) August 8, 2017
Chris Brown really comments eyes and shit when he sees pictures of Rihanna like he didn't beat the shit out of her. He's so trash.

— Rochelle A. (@rcellle) August 8, 2017
Why is Chris Brown commenting on Rihanna's instagram photos pic.twitter.com/GsLKFsaDwm

— Zé (@FATHERBONNET) August 8, 2017
Really Chris Brown ???? You gon comment under Rihanna's picture ?? Right in front of my salad ?? pic.twitter.com/Vr3sokIIgR

— boi (@KidBrenen) August 8, 2017
While most fans were outraged by the 'Privacy' singer's actions, some people were quick to jump to his defence.
"Why's Chris Brown's comment on Rihanna's IG picture triggering y'all?" said one user.
If Rihanna was nearly as bothered by Chris Brown as yall swear there'd be no comment on her IG bc he'd be blocked but alas here we are.. pic.twitter.com/bRXSGsxAyo

— #swerve (@xharambae) August 8, 2017
So, according to the Internet Chris brown dropping a comment on Rihanna's IG is a crime?
1) It was just this no words.
So Calm down!

— winniefred omatseye (@winniefredomat1) August 8, 2017
A simple "" comment by Chris Brown has sent ppl into a frenzy.. Damn, Calma! It's not that deep.

— SWEETAIDPAPI (@ChimBreezy) August 8, 2017
Following the attack by her then-boyfriend, which occurred before the 2009 Grammy Awards, Rihanna took out a restraining order against Brown after he was charged with assault.
The R&B crooner received five years of probation for the highly-publiced incident, which left Rihanna hospitalised for her injuries.