Chris Brown Responds To Fans Comparing Him With Rihanna, Beyonce & Bruno Mars
13 February 2018, 16:23 | Updated: 13 February 2018, 16:26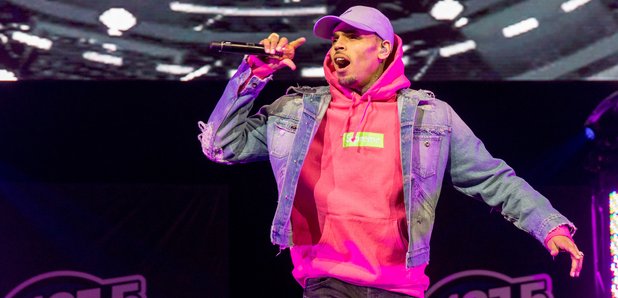 The R&B singer is clearly not happy with comments made on Twitter.
Chris Brown appears to have responded to online backlash surrounding his proposed 'dream' world tour line-up.
The 'Heartbreak On A Full Moon' singer had suggested that a "crazy world tour" would feature Beyonce, Rihanna, Bruno Mars and himself.
Just thinking.... A CRAZY WORLD TOUR would BEYONCE, RIHANNA, BRUNO MARS, CHRIS BROWN. "2 for 2". And if y'all decide to do it without me... give me 10%.

— Chris Brown (@chrisbrown) 9 February 2018
Shortly after posting the tweet, Chris Brown was hit with a barrage of comments from people talking his abusive relationship with Rihanna.
However many fans began to question Chris Brown's quality as an artist, with some stating that he didn't deserve to share a stage with the superstar artists he mentioned.
The fact that you ACTUALLY think your name can sit next to RiRi, Bey and Bruno is sending me. https://t.co/yb6ofcR8yE

— I Luh God (@aVeryRichBish) 9 February 2018
Robyn nor Beyonce is going on tour with you sir.

— The Notorious K.I.D. (@bceeteedubz) 9 February 2018
Chris Brown sings over a track, Beyonce doesn't. Chris Brown's tour visuals aren't noteworthy, Beyonce's are. Beyonce has actual choreography, Chris Brown walks back and forth and does some flips in between. Let's not.

— jagged lil pill (@gurulaghima_) 11 February 2018
I'm actually very tired of people who think Chris Brown is a better entertainer than Beyoncé. It's embarrassing that you even think he is on her level. I've said this time without number, Beyoncé is the best entertainer of our era.

— moze (@omozay) 12 February 2018
After seeing some of the negative comments, Chris Brown took to social media to hit back.
First the singer reposted an Instagram video of a fan defending him, alongside the caption: "Thanks G, I appreciate y'all".
He then took to Twitter to share news that his latest album 'Heartbreak On A Full Moon' went platinum in January 2018 – two months after its initial release on 31st October.
"Say what you want… really wouldn't matter at this point," he said. "Greatness defends and speaks for itself."
SAY WHAT U WANT... really wouldn't matter at this point. . GREATNESS DEFENDS AND SPEAKS FOR ITSELF pic.twitter.com/nCJfHwComY

— Chris Brown (@chrisbrown) 13 February 2018
Meanwhile, Chris Brown is currently working on a new mixtape alongside upcoming R&B singer Jacquees.
Breezy recently teased a smooth R&B song from the upcoming project.