Chris Brown Reignites Feud With Ex Karrueche Tran
12 March 2016, 11:24 | Updated: 12 March 2016, 11:50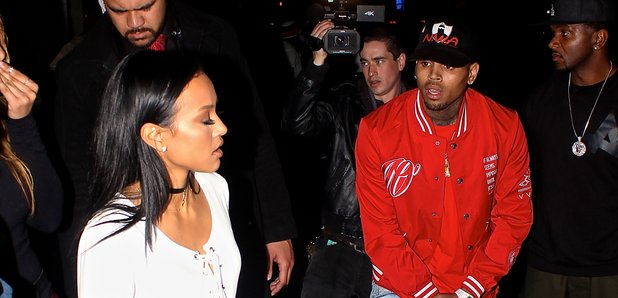 Breezy and Tran exchanged some strong words.
Chris Brown and his ex-girlfriend Karrueche Tran have reignited their long-running feud following a new exchange of heated Instagram messages.
"I wish u the most successful career ever," Breezy began in a since-deleted Instagram caption.
"But I promise you this, once this 'TALENT' you have starts to simmer, so will everyone else including [Manager] Jacob [York]. all of your famous friends know u how?"
He continued by dissing Karrueche's current career moves: "So to end this petty game, that's gonna allow u to book more club appearances and 'MOVIES' that go straight to DVD, "I'll leave you this [heart emoji]!"
Karrueche quickly fired back referencing Breezy's verse on his 'Back To Sleep' Remix, where he gives her a shout out.
"You're calling me a bitch yet you're screaming my name in a song about getting back together?," she said in a similarly deleted Instagram comment.
"CAN ALL THIS PETTY S**T STOP," she added. "IT IS SO UNNECESSARY. You have a beautiful daughter and so much to live for. LIVE YOUR LIFE and be positive. I am so over the drama!"
She then posted a picture of herself alongside a caption that said: "Okay bye," to which Brown responded with a video message:

Meanwhile, Chris Brown also recently called out US presidential candidate Donald Trump on Instagram.
The singer condemned Trump's presidential rally and said "God will have his revenge".