Chris Brown Used A "Picture Of Ariana Grande" On His Album Cover & Her Fans Are Not Happy
19 December 2017, 11:39 | Updated: 19 December 2017, 11:43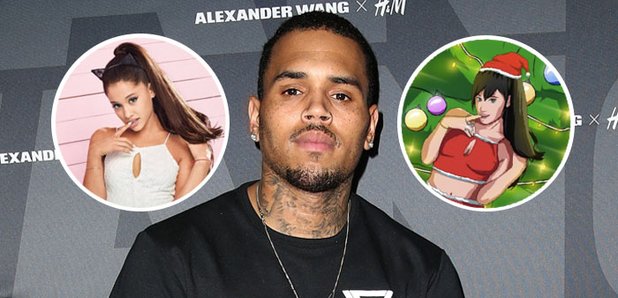 "Who gave Chris Brown permission?"
Chris Brown is facing criticism from fans of Ariana Grande after he allegedly used an image of her on his new album cover.
After dropping the deluxe Christmas edition of his album 'Heartbreak On A Full Moon', titled '12 Days of Christmas: Cuffing Season', fans were treated to some brand new festive artwork.
However, eagle-eyed Twitter users soon began picking up similarities between a cartoon image of a female on the cover and the 'Side To Side' songstress.
what the.... @chrisbrown @ArianaGrande pic.twitter.com/RL2x2IuQAo

— inès (@arisflash) 14 December 2017
Fans were surprised by the alleged inclusion of Ariana since she doesn't appear on the album - the pair haven't worked together since their 2014 collaboration 'Don't Be Gone Too Long'.
People questioned whether Breezy asked Ariana's permission before using the image, which sees the cartoon woman strike an identical pose to the singer, along with her iconic half-up-half-down hairstyle.
Many users are tagging Ariana in the images in the hope that she will clarify the speculation, while others are defending Chris, insisting the image isn't Ariana.
Ummm @chrisbrown but @ArianaGrande deserves better sweetie. Sorry to burst your bubble. pic.twitter.com/zaAWbgCuQF

— Taylor Swift (@agbshades) 13 December 2017
Okay all joking aside Chris brown using Ariana on his album cover is like creepy unless she told him it was okay (which I highly doubt she did) this is like no not okay he needs to just leave her alone pic.twitter.com/kalP7zwsCP

— Hayley (@Macianaxoxo) 13 December 2017
first of all I wanna know who gave chris brown permission to use ariana on his album cover?

— ً (@ButeraDemetria) 13 December 2017
Guys lmao what's happening @chrisbrown @ArianaGrande pic.twitter.com/UegyNC8KlU

— little sailor♡ (@naomiroijen) 13 December 2017
Everything about this is identical. The hair, the hands, the outfit, the face shape, the bracelet, her posture. Does the mean anything or no? @ArianaGrande and @chrisbrown pic.twitter.com/O4k7f7bWhM

— Nikki loves Camila (@lntoyoukarla) 13 December 2017
do some of y'all really think ARIANA GRANDE someone who constantly calls out interviewers on their sexism, stands up for women rights, speaks out about double standards really gonna let someone like Chris Brown who has a history that we all know about, put her on his album cover? pic.twitter.com/34g3IvF4Pl

— S (@DRlVEMECRZY) 13 December 2017
Brown is yet to comment on the ongoing speculation, and continues to promote the new album across social media.
Grande is also yet to respond to the rumours.