Chris Brown Producer Kevin McCall Threatens To Kill Him & His Daughter Royalty In Bizarre Twitter Rant
8 January 2018, 13:50 | Updated: 8 January 2018, 14:07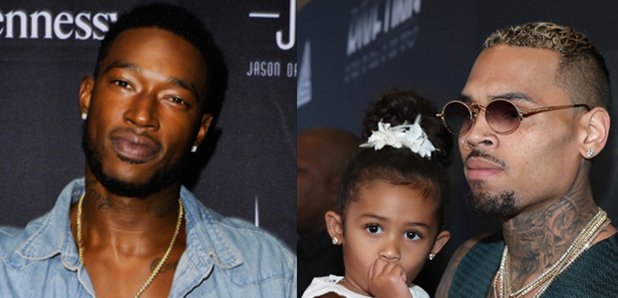 Things escalated quickly!
Producer Kevin McCall has continued to fuel his long-running feud with Chris Brown by sending death threats to the 'Questions' singer and his three-year-old daughter Royalty.
McCall made the comments while attempting to tell fans that Chris Brown was not responsible for a foot injury that left him hospitalised.
"There was a rumour going around that he accidentally shot himself in the foot, but Kevin gave us the play-by-play," reported TMZ. "He says police took a report, but Kevin does not plan to take any further action."
After ending that speculation, rumours began spreading about his arch-rival Chris Brown's potential involvement.
However McCall squashed rumours that Chris Brown's entourage were responsible for the injury and made some serious threats in the process.
"Chris Brown and [Royalty] would be in a casket if he had anything to do with me being shot," he began.
"Stop playing with rumours or I can't promise CB will make 29!"
After a huge social media backlash to his threats, Kevin McCall hit back angrily via Twitter.
I don't see wat I said wrong. The Bible says and eye for and eye...Chris didn't do it so don't bring his name up in my life and death situation because you playing with gossip but L.A ain't a game. I didn't threaten anyone I told you how life would play out. I saved him hella X's

— Kevin McCall (@KevinMcCallJr) 6 January 2018
It's what people have tired to do in the past the person who shot even tried to kill him for 500$ and I fought him for it. So if someone does Kill me for what I said..again it's gonna harm a lot of people for a long time don't try to make CB look Gangster clown me & leave CB be. https://t.co/KplHirM7Uu

— Kevin McCall (@KevinMcCallJr) 6 January 2018
Everybody should be cool. Don't get nobody hurt we tryna stay alive for our kids. You can shame me BUT do NOT spread rumors about INNOCENT people who aren't involved because I'm getting calls by the minute who want blood and it's just EVIL fucc that shit pic.twitter.com/JTK8feLGo9

— Kevin McCall (@KevinMcCallJr) 6 January 2018
They only time I would mention @chrisbrown and ROYALTY in the same sentence is the 3 million dollars in #ROYALTIES he owes me for look at me now/other songs he removed my name/credit on because I was un-educated and un-protected contractually- I don't promote EVIL so self reflect

— Kevin McCall (@KevinMcCallJr) 6 January 2018
People I know threaten to kill me every other day lol—-they offer to Kill people they THINK i beef with not knowing it secretly makes them my enemy because I LOVE CB and his child and would kill for them—-so I call my self keeping enemies closer and It BIT my ass —well my Foot pic.twitter.com/9eiCXOYGf5

— Kevin McCall (@KevinMcCallJr) 6 January 2018
Kevin McCall also recently smashed up a gold plaque for Chris Brown's 2011 album 'F.A.M.E.'
The pair worked together on songs including 'Deuces', 'No Bullsh*t', 'She Ain't You', 'Yeah 3x' and 'Wet The Bed'.
Chris Brown is yet to respond.
However the 'Privacy' singer was recently spotted on a date with his rumoured girlfriend Agnez Mo.
The pair posed for pictures with fans as they walked around Disneyland holding hands.