Chris Brown Sparks Controversy With Latest Karrueche Tran Instagram Post
28 March 2018, 10:39 | Updated: 28 March 2018, 10:43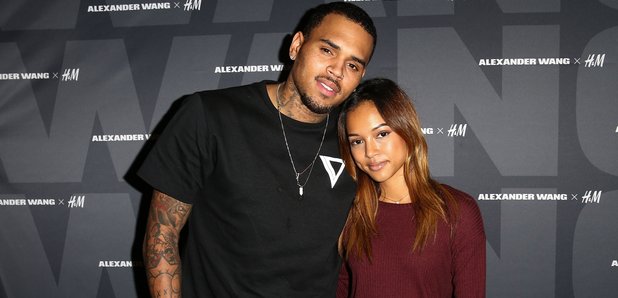 Tran previously accused Chris Brown of domestic violence.
Chris Brown has sparked more controversy involving his ex-girlfriend Karrueche Tran with a cryptic Instagram post.
The polarising R&B singer, who appeared to send another message to his ex this week, uploaded a now-deleted post that was clearly intended for Tran.
"I want you to be happy even if it hurts me. Little Foot [Taurus] to [Taurus]," he wrote alongside a picture of himself throwing up a peace sign.
Back in 2017, Karrueche Tran claimed that Chris Brown punched her in her stomach twice and pushed her down stairs during their relationship.
Following the quickly-deleted post, fans were quick to respond with mixed views.
Some fans were happy that Chris Brown was still attempting to win her back.
So Chris Brown and Karrueche are both a Taurus...wowwww I can definitely believe that.

— Kia Sharee (@PrettyasAkia) March 27, 2018
I want someone to love me like Chris brown love him some Karrueche

— My Name is Taylor (@audreyluelle) March 28, 2018
I'm ready to see @karrueche forgive @chrisbrown #LetLoveWin

— (@ButtRpcanPR) March 28, 2018
Chris Brown is clearly still in love with Karrueche and I love it

— AnnaLee Roze (@AnnaLeeRoze) March 28, 2018
Chris Brown is never gonna get over Karrueche lmao

— mulan (@Ektaasy) March 28, 2018
While other fans expressed concern that the singer isn't allowing Karreuche to move on with her life.
I truly want Chris Brown to leave Karrueche alone! Like let her move on in peace! She wasn't commenting or speaking on that Asian chick you were dating.... like damn stfu

— Daenerys. (@Kim_Buh_Lee) March 27, 2018
Chris Brown, the man gotta have multiple mental illnesses lmfao not leaving Karrueche alone

— mami (@xiomomma) March 27, 2018
Bruhhhhhh! Will Chris Brown ever get over Karrueche? What?!

— ChuChu (@rachelotowo) March 27, 2018
Can Chris Brown just leave Karrueche the hell alone? He's so extra and mentally manipulative lol

— Yazi (@mbakusnextmeal) March 27, 2018
Earlier this week, Chris Brown appeared to show his appreciation for Karrueche Tran's new boyfriend Victor Cruz.
Meanwhile, Tran was officially granted a restraining order against Chris Brown in 2017 following a lengthy legal battle.