Joyner Lucas Passionately Defends Chris Brown Against His Online Haters
20 March 2018, 10:02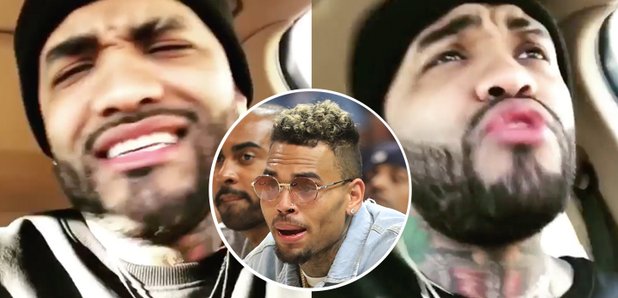 He even compared Breezy to an influential historic figure...
Joyner Lucas has jumped to Chris Brown's defence amid the ongoing controversy surrounding the R&B singer's troubled past.
During a lengthy Instagram rant, the Massachusetts rapper stuck up for his 'Stranger Things' collaborator and suggested that Breezy's history shouldn't distract from his musical talent.
Speaking to the camera, Lucas slams people who hold Brown's past against him - most notably, his infamous assault of ex-girlfriend Rihanna in 2009.
"Every time this ni**a do some superhuman sh*t, the first thing mother f*ckers wanna post is, 'Oh, but he's a woman beater.'" he begins.
Watch the video below.
"You can do that sh*t all you want but that does not take away from the fact that he's gonna do what he do better than any ni**a who's ever done it."
Lucas went on to compare Brown's past to that of famous civil rights figure Malcolm X, before suggesting his online may be a result of jealousy concerning said hater's favourite artists.
"You can run to that comment. That's a scapegoat comment, ni**a. Just remember, Malcom X had a past."
"When the ni**a start dancing better than your favorite dancers, 'Oh, but he's a woman beater.' When that ni**a starts singing better than any ni**a who's ever sung before, 'Oh, but he's a woman beater,'" he said.
"Then the ni**a start rapping better than your favorite rappers – 'But he's a woman beater.' And then the ni**a starts ballin' better than your favorite baller – 'But he's a woman beater.' Shut the f*ck up!"
In response, Brown reposted the video - which has since been deleted from Lucas' own account - and thanked him for his support.
Meanwhile, Brown was recently featured in a since-pulled Snapchat feature which asked users whether they would rather 'Slap Rihanna' or 'Punch Chris Brown'.