Chris Brown Exposes Petition Calling For His Label To Drop Him
4 April 2018, 10:33 | Updated: 5 April 2018, 11:01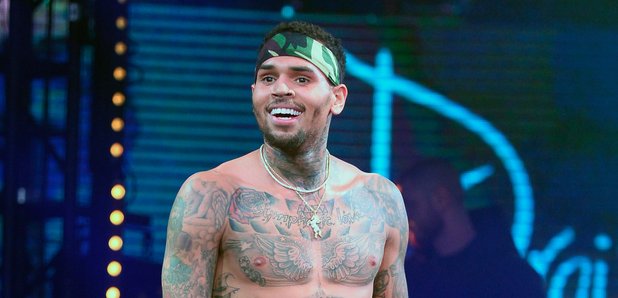 The petition was initiated after images appearing to show the singer with his hands around a woman's neck surfaced online.
Chris Brown has exposed a petition against him that urged his label to drop him following recent alleged domestic violence reports.
The petition, which was initiated by online petition site Care2, began after images appearing to show Breezy grasping a woman's neck with his hands appeared on social media last week.
Breezy and his team clarified at the time that there was no foul play involved. Despite this, the petition continued to go ahead - but with one error.
The petition called for industry giant Interscope Records to drop Brown's label, CBE, from under its umbrella. However, as the R&B singer later pointed out, he isn't actually signed to Interscope at all.
Chris is signed to RCA Records, a record label owned by Sony Music. After cryptically responding to the petition, Breezy took to Instagram once again, this time to point out the flaw.
"I'm not signed to Interscope," the singer wrote matter-of-factly.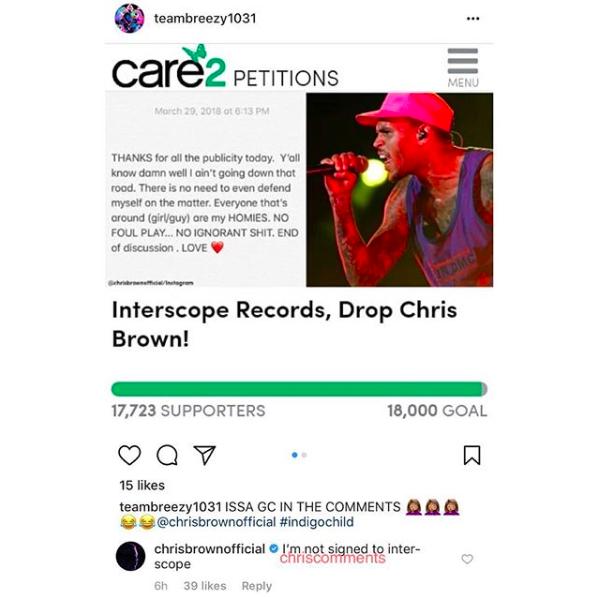 After TMZ posted the images, Brown's lawyer was quick to shut down any suggestions of domestic violence, telling the publication: "She's a friend. It's obviously playful as she confirmed. Whoever invaded their privacy will be held accountable."
At the time, the publication confirmed that Chris Brown and the woman have claimed they were just playing around.
Meanwhile, the 'Freaky Friday' singer is gearing up to hit the road for his 'Heartbreak On A Full Moon' US tour alongside singers H.E.R., 6lack and Rich The Kid.