Chris Brown Has Sparked Outrage After Not Standing Up During 9/11 National Anthem
12 September 2016, 12:45 | Updated: 12 September 2016, 12:47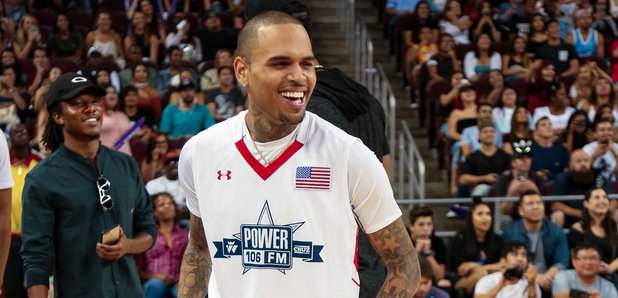 More controversy for Breezy.
Chris Brown has shown his support for NFL player Colin Kaepernick by not standing up for the national anthem on the anniversary of 9/11.
Breezy decided to join the protest against the government, which was started by Kaepernick last month after he refused to stand because of consistent wrongdoings against African Americans and minorities in the US.
A number of artists including J. Cole and Trey Songz have also pledged their support to the movement.
However after Chris Brown was spotted sitting down during the anthem at a charity basketball game, fans on Twitter have expressed their anger.
Check out the moment below:
Chris Brown is a disgusting example of a human. Refuse 2 stand during the national anthem on 9/11? If I was there I would have pissed on you

— Zach (@ChgoZach76) September 12, 2016
Chris Brown refused to stand for the national anthem ON 9/11........ waste of 12 years being his girlfriend bc we r doneeeeeeeee

— Erica Michelle (@ericcaaaxo) September 12, 2016
Anyone else find it ironic/laughable that @chrisbrown is trying to take a stand against brutality? I mean... https://t.co/TBhRGthzlt

— G (@ToBeFetching) September 12, 2016
However a number of people have expressed their support for Breezy.
Ppl r hating on this post cause CB didn't stand up so what,I bet he wasn't d only1 lmao #Ilovecb @chrisbrown pic.twitter.com/vPxqDm3kLR

— Vicky Jay (@vicstar25) September 12, 2016
Chris Brown didn't stand for the national anthem today at the celebrity all star basketball game

— Tiffany Bliss Lopez (@tiffanyblisss) September 12, 2016
wish TMZ would stop about chris brown i mean so what he doesn't stand up for National Anthem nothing y'all can't do about it

— babyalsina (@babysongz13) September 12, 2016
Now everyone is mad that Chris Brown didn't stand up for the national anthem

— Marissa Smith (@marissa111898) September 12, 2016
Chris Brown has responded to the backlash with two posts on Instagram, writing "stay classy" and "dodging this bullsh*t like".

Meanwhile, Chris Brown is expected to appear in court for his gun charge on 20th September.
The 'Royalty' singer has continued to plead his innocence.