Is Chris Brown Releasing Too Much Music?
17 January 2018, 13:05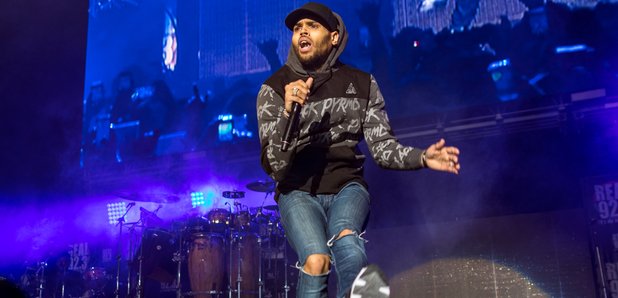 The R&B singer has flooded fans with new music since the release of his album 'Heartbreak On A Full Moon'.
Following the release of Chris Brown's latest album 'Heartbreak On A Full Moon' in October 2017, the polarising R&B singer has continued to unleash a consistent stream of new music for his fans.
The huge double album, which included 45 songs, was later re-released as a 57-track deluxe LP called 'Heartbreak On A Full Moon: Cuffing Season, 12 Days Of Christmas'.
In addition to the projects, Chris Brown has released a handful of songs online and is also rumoured to be working on a new mixtape with R&B singer Jacquees.
Back in October, Breezy revealed he had an astonishing 800 unreleased songs stored on his mobile phone.
Is Chris Brown releasing way too much music? Or is he simply satisfying the needs of his dedicated fan base?
Some people have had enough of Chris Brown:
can chris brown please stop making music? we ain't even listen to those 57 tracks yet my dude

— viv (@vihveele) 12 January 2018
Chris is stil abusive and hes doing it by harassing us with music

— afrogyal (@queenafroNAM) 11 January 2018
Chris Brown is recording more music.
God, make it stoooop.

— elly from the block (@god_of_mischief) 17 January 2018
Jokes aside Chris Brown needs a serious break from music. He's doing too way much and someone needs to tell him

— Mikez (@MikezAFC_) 12 January 2018
Why is chris brown tryna torture us with more music we aren't gonna listen to?

— Anabel (@conamorana) 12 January 2018
While others want Chris Brown to continue with new music:
Why everybody bothered by Chris Brown putting out all this music?? Yall aint have a problem with Future doing it a few years back lmaooo smh

— MileΣ MoraleΣ (@_RobJay) 12 January 2018
We be slandering Chris Brown for dropping hella music like Gucci ain't drop 4 albums and 3 mixtapes in 6 months.

— 12Years A Side Nigga (@keemiemillz) 13 January 2018
Its ppl mad chris brown keeps dropping music. Hes a fucking musician what he sposed to do?

— "Name" (@NarcoReus) 12 January 2018
Why does so many people hate on Chris Brown?? If this man wanna keep making music let him he's out here grinding and I couldn't be more pleased

— Jay (@jada_janee) 5 January 2018
Is it keeping Chris Brown out of trouble?
Chris Brown has a studio in his house. All he does is go downstairs and make music for a living...and he's making that bag. That's a lifestyle i can get with

— Showkase (@brandxnn_) 11 January 2018
chris brown been in the studio making ppls career output in one album full of fire just to stay away from shit.. and now hell wanna knock at the door

— last bump monk (@bellyakim) 6 January 2018
Y'all buggin out on Chris brown for what??? Have y'all stopped to think that maybe being in the studio and releasing music is beneficial to his mental health and well being... and Bruno could never be on the same talent level as Chris brown let's get that understood https://t.co/YDVhEID5f6

— DreTookHer (@BeardedDre) 6 January 2018
Nobody is worried that Chris Brown has a drug addiction that some people close to him have said might end him but he's in the studio all the time? Shouldn't he be focused on his wellness?

— Young Brando In A Bando (@FilmManBran) 4 January 2018
Chris Brown staying in the studio so he stay outta trouble. This is the least problematic he's been in years.

— Babylon Ting (@domstoofly) 4 January 2018
Despite a mixed reaction from music fans, Chris Brown seems determined to continue releasing new songs.
Do you want more music from Chris Brown?