Is Bruno Mars More Talented Than Chris Brown?
12 February 2018, 16:41 | Updated: 12 February 2018, 16:43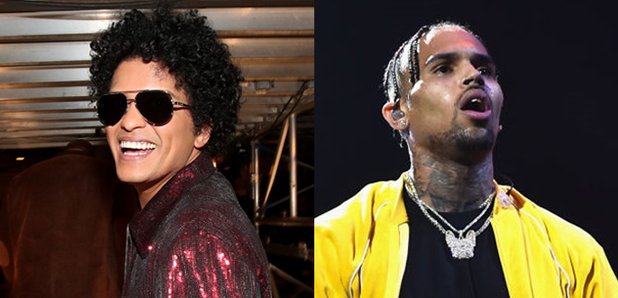 The 'Finesse' singer and the 'Questions' crooner are two of the biggest male stars in R&B.
Fresh from his six-award sweep-up at the 60th Annual Grammy Awards, Bruno Mars has kicked off his 2018 in a big way.
The singer picked up every single gong he was nominated for at this year's ceremony for his 2016 album '24K Magic', slotting in a high-energy performance of his funk-laden song 'Finesse' alongside Cardi B in between.
However, while Mars reaps the rewards of his undeniably hugely successful record, another artist contuse to grind away in the studio after dropping a certain 45-track double album.
Chris Brown has released a consistent stream of new music for his fans since the release of 'Heartbreak On A Full Moon', his eighth studio album which went on to top the US Top R&B/Hip-Hop Album chart.
As two of the leading male figures in contemporary R&B, both Mars and Brown have faced comparisons over the years - these were highlighted this week after Brown proposed a world tour involving the pair, along with Rihanna and Beyoncé.
Brown faced backlash after voicing this concept, mostly for his inclusion of RiRi. It did, however, spark another discussion which pitted the talents of the 'Questions' singer and Mars against each other.
Just thinking.... A CRAZY WORLD TOUR would BEYONCE, RIHANNA, BRUNO MARS, CHRIS BROWN. "2 for 2". And if y'all decide to do it without me... give me 10%.

— Chris Brown (@chrisbrown) 9 February 2018
The 2010 release of his debut album 'Doo-Wops & Hooligans' catapulted Bruno into the mainstream media - the record sold over 5 million copies in the US and earned him a Grammy for the chart-topping single 'Just The Way You Are'.
His second album, 'Unorthodox Jukebox', achieved quadruple platinum status and picked up yet another Grammy for Best Pop Vocal Album. In terms of accolades, Mars has earned impressive eleven Grammys and 76 other awards.
In addition, seven of his singles are among the best-selling of all time: "Just the Way You Are", "Grenade", "The Lazy Song", "Locked Out of Heaven", "When I Was Your Man", "Treasure", and "Uptown Funk".
The Hawaii native has also become known for his electric stage presence and showmanship, performing epic dance routines during his frequently sold-out concerts alongside a live band named The Hooligans.
even his rehearsals are more enjoyable than some artists' actual performances pic.twitter.com/k9z2fer5Xk

— girl posts (@girlposts) 6 February 2018
Meanwhile, Chris Brown has released a eye-watering 106 singles over the course of his thirteen-year career, including 66 as a featured artist, and picked up a Grammy in 2012 for his album 'F.A.M.E.'.
Since the early stages of career, Brown has received countless comparisons to his chief inspiration, Michael Jackson, from the likes Usher, Mary J. Blige and Jermaine Dupri. He is also a talented artist, with a penchant for graffiti and painting.
Breezy's workflow cannot be ignored, as the singer recently revealed he has an astonishing 800 unreleased songs stored on his mobile phone, all while dropping new songs week after week on his SoundCloud and other social media accounts.
A dynamic performer, Brown skills on the dancefloor are utilised throughout his music videos and his during his live shows - the man can even land on beat.
Bruno Mars a better performer than Chris Brown?

Are you okay?pic.twitter.com/pKNhatbrCa

— Web Designer (@WebDesignerVoN) 12 February 2018
The debate is ongoing online, with parties from both sides voicing their opinions in light of Brown's recent comments.
What do you think?
Chris Brown really put himself in the same league as Beyoncé, Rihanna, and Bruno Mars pic.twitter.com/LJbnT36gjl

— n (@junmyeonns) 9 February 2018
Chris Brown is the most talented out of Beyonce, Rihanna and Bruno Mars. He might not be the biggest star but he's the most talented. Nigga is a producer, he sings, he raps, he draws, he paints, graffiti's, he acts, he is an amazing writer. Please tell me if our favs Can! RESPECT

— MOOD (@Karryloner) 11 February 2018
y'all just be retweeting anything. Rihanna has 14 #1 hits, Bruno Mars has 7 #1 hits, Beyoncé has 6 #1 hits and Chris Brown only has 2. That nigga ain't no where close to their level and y'all need to stop boosting him pic.twitter.com/sAMoZJTMvG

— reggie (@1942bs) 11 February 2018
Chris brown is easily better than Bruno Mars, come on people

— Buach Mac Seáin (@VAJohnson93) 9 February 2018
Bruno Mars is a better Musician
Chris Brown is the better Artist
My own opinion tho

— Joey (@joeydapoet) 12 February 2018
Beyonce, Rihanna and Bruno Mars should be bowing down that Chris Brown even mentioned them.

— JadenOsteen (@JadenOsteen) 12 February 2018
Bruno Mars > Chris Brown pic.twitter.com/w5OQdcXwNg

— Mpumelelo Ngwenya (@_Mpumz) 12 February 2018
Just say you like Chris Brown over Bruno and keep it pushing. Current Chris Brown is not holding a candle to current Bruno Mars as a performer. It takes more than talent to be great.

— Zee (@AsToldByZee_) 12 February 2018
Y'all really think Bruno Mars is a better performer than Chris Brown? That's laughable.

— Foxxy Cleopatra (@kaitthekish0p) 10 February 2018
I'm so sick of y'all acting like Chris Brown is in the same category as Beyoncé, Rihanna, and Bruno Mars. He is not a big name anymore. Get over it. pic.twitter.com/oMDwPolfOH

— Xavier Yarbroux (@hoodopulence) 11 February 2018