Donald Glover Just Called Himself "The New Tupac" & People Have Opinions
8 February 2018, 13:02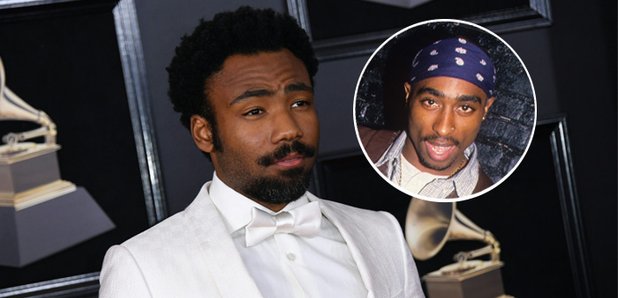 "I grew up similar."
Donald Glover has divided opinions following his recent comments comparing himself to Tupac.
The Grammy Award-winning musician - who also goes by the stage name Childish Gambino - discussed his career and achievements in an interview with Esquire.
Glover is an accomplished actor and is known for his role in his self-created television series 'Atlanta', as well as his portrayal of the young Lando Calrissian in the forthcoming movie 'Solo: A Star Wars Story'.
On his hugely successful transition from acting to music, Glover compared himself and his childhood to that of the legendary 'California Love' rapper.
"I know everybody likens themselves to Tupac a lot. I am the new Tupac in a strange way," he said.
"I grew up similar. I didn't have a mom in the Black Panthers, but my parents were very pro-black. Also, my mom made me go to performing arts high school,"

"She was like, 'That's where you need to be.'" he added, before elaborating on the similarities between his creative process and Pac's.
"Storytelling is just simplifying what's happening to you. Life is just a story. Stuff that happens to you, you just put into story mode,"
"I just take what's there and put it into story mode on a smaller level so that you can be like, 'Oh my God, that's life! I totally relate to that.'"
Soon after the article was published, however, people began to question the 'Redbone' rapper's self-proclaimed similarity with Tupac.
"Donald Glover is not like Tupac. He crazy for that comparison." wrote one user.
Donald Glover referring to himself as the new Tupac? Nahhhhhhh

— Q (@QuinTweets) 8 February 2018
This man Donald Glover compared himself to Tupac but literally forgot that Tupac was cool and he isn't.

— zeke the cat (@SpectreSurvives) 8 February 2018
Donald Glover is not like Tupac. He crazy for that comparison.

— OG Mayo (@VICKxWA) 8 February 2018
I have met Donald Glover. Donald Glover is not the new tupac. Talented cat though.

— Bobby Blaxelrod (@MarvBarksdale) 8 February 2018
Meanwhile, Glover is set to voice the character of Simba in the upcoming live action remake of Disney's 'The Lion King'.
Scheduled for release in 2019, the hotly anticipated blockbuster will also star Beyoncé, who is voicing the role of Nala.