Chance The Rapper And Young Thug Drop Surprise New Track
17 July 2017, 10:17 | Updated: 17 July 2017, 10:21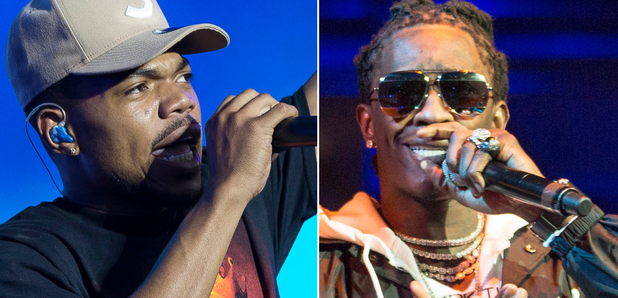 Chance put the collab out on the troubled music streaming site Soundcloud.
On 'Big B's' Chance and Thugger rap over a bouncy light trap beat with some synth piano.
The track dropped on Soundcloud over the weekend, with the art for the track featuring a text convo between the two, signed off by 'Chance + Jeff'.
Last week Chance tweeted that he was working to try and save Soundcloud.
I'm working on the SoundCloud thing

— Lil Chano From 79th (@chancetherapper) July 13, 2017
Just had a very fruitful call with Alex Ljung. @SoundCloud is here to stay.

— Lil Chano From 79th (@chancetherapper) July 14, 2017
Chance built his early following largely through the free hosting and streaming service.
It has been reported that Soundcloud is rapidly running out of money, having laid off 173 people this month.
It's rumoured that the service could be shut down before the end of the year unless an investor is found.