Chance The Rapper Makes Powerful Speech At BET Awards - WATCH
26 June 2017, 14:32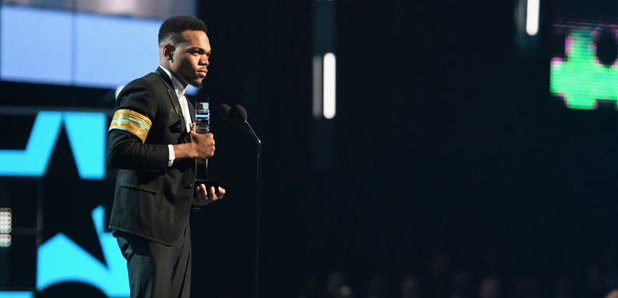 Chance spoke from the heart when he picked up a special award at last night's BET awards.
Last night Chance The Rapper, who Michelle Obama called an "outstanding role model" in a video message, received the BET Humanitarian Award at the BETs and his acceptance speech showed exactly why he deserved it.
The part about legalizing weed in Chance The Rapper's speech after receiving the BET Humanitarian Award. pic.twitter.com/ELyqH1lZ0r

— Eric Okafor (@KneWKeeD) June 26, 2017
Climbing on stage in LA he said: "This is wildly overwhelming. I didn't prepare a speech because I wanted to see what would happen when I got up here and try and speak from the heart."
"It feels a little early to get something like this," he said about receiving such a prestigious award so young (he's only 24-years-old), "but my God doesn't make mistakes."
He then went on to speak about problems with the Chicago public school system, which he personally donated $1 million to last year, and the justice system in America.
"We've got to work on ourselves before we work on the world," he said, speaking honestly about how he wants to be a better father and cousin.
But Chance is clearly just getting started in his mission to make a difference: "I want to be more involved outside just my community in Chicago. I want to travel over seas and help out people all over the world."
"I'm a good man and I want to become a better man," was his finishing line.
That's all the Monday motivation we need!