17 Of The Best Chance The Rapper Songs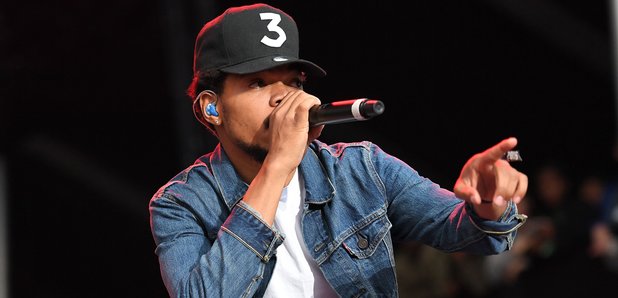 Here's our run down of the 17 best Chance The Rapper songs from collaborations with Kanye West and Big Sean to smooth R&B songs that give you all the feels.
Despite only releasing three solo projects so far, Chance The Rapper has put together a discography that would put most rappers to shame – and it's all free!
The Chicago rapper has deliberately kept all of his music free of charge so fans can enjoy his songs without worrying about money.
We've narrowed down the biggest Chance songs from 'No Problem' and 'Sunday Candy' to throwbacks like 'Juice' and 'Hey Ma'.
Press play below and enjoy!
'No Problem' (Feat. Lil Wayne & 2 Chainz)
Chance's collaborations are loved by many and 'No Problem' alongside Lil Wayne and 2 Chainz is one of his standouts.
'Sunday Candy' (Feat. The Social Experiment)
Taken from Donnie Trumpet & The Social Experiment's eclectic mixtape 'Surf', Chance dedicated a soulful track to his grandmother.
'Wanna Be Cool' (feat. Big Sean & Kyle)
Big Sean and West Coast rapper Kyle join Chance for an uplifting track about being yourself.


'Somewhere In Paradise' (Feat. Jeremih & R. Kelly)
The list wouldn't be complete without Chance's huge collaboration with R. Kelly and Jeremih!
'Angels
'
Fellow Chicago rapper Saba joined Chance for a signature feel-good track, taken from his Grammy-nominated mixtape 'Coloring Book'.
'All We Got' (feat. Kanye West)
After collaborating on Kanye West's album 'The Life Of Pablo', the pair linked up for one of Chance's best tracks.

'Everybody's Something'
Some of Chance's best songs were actually released before his fame and 'Everybody's Something' is a perfect example. The Chicago rapper penned an introspective track about love.
'Good Ass Intro' (Feat. BJ The Chicago Kid, Lili K & Kiara Linier)
Comparisons between Chance and Kanye West began growing following his 'Acid Rap' mixtape. On the project's intro, Chance dropped an upbeat soulful track named after Kanye's mythical 'Good Ass Job' album.
'Smoke Break' (Feat. Future)
Future features on 'Smoke Break' - one of the biggest songs on 'Coloring Book'. The track is packed with everything we love about Chance: his lyrics, smooth vocals and infectious melody.

'Paranoia' (Feat. Nosaj Thing)
'Paranoia' is taken from Chance's mixtape 'Acid Rap' and showcases his struggles with growing up in the violent city of Chicago.
'Family Matters'
Chance became a father for the first time in 2015 and celebrated by releasing a special remix of Kanye West's 'College Dropout' song 'Family Business.'

'Mixtape' (Feat. Young Thug & Lil Yachty)
One of the biggest tracks from Chance's 'Coloring Book' mixtape is his collaboration with Young Thug and upcoming rapper Lil Yachty.

'Cocoa Butter Kisses' (Feat. Vic Mensa & Twista)
Chicago rappers Vic Mensa and Twista joined Chance The Rapper on his Acid Rap track 'Cocoa Butter Kisses'. This is special...
'Hey Ma'
Back in 2012, Chance dedicated a special track to his mum. The amazing visuals take fans on a journey through his life so far.

'Blessings Reprise' (feat. Jeremih, D.R.A.M & Raury)
Mesmerising…
'Acid Rain'
Made in less than two hours, Chance's introspective song 'Acid Rain' shows off his lyrical ability.

'Juice'
'Juice' was the lead single from Chance's breakthrough 2013 mixtape 'Acid Rap'. What a tune!
Keep providing the bangers, Chance!