WATCH: Cardi B & Blueface Unveil Racy Visuals To 'Thotiana' Remix
18 February 2019, 12:54 | Updated: 18 February 2019, 12:57
Blueface - Thotiana Remix ft. Cardi B (Dir. by @_ColeBennett_)
Cardi B & Blueface bust a move and Cardi gets racy in the eye catching visuals to "Thotiana" remix...
Cardi B and Blueface drop startling visuals for Cardi's remix to Blueface's famous "Thotiana" track. Eye-catching and racy is to say the least, but the video features great chemistry between the two artists.
Directed by Cole- Bennett, the video begins with a man spotting a flying car red car that ends up being a significant backdrop featuring throughout the video.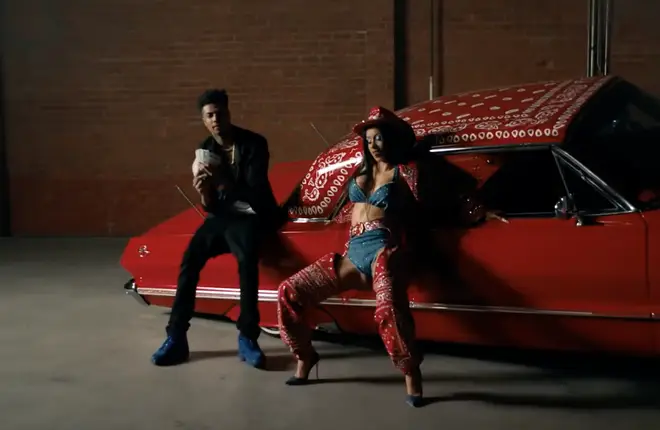 The music video stylistically plays on the two opposing gangs, bloods vs crips with the red and blue colour theme and bandana prints. The video shows bloods and crips coming together, which an idealistic and positive move that is nice to see.
However, some fans have given attention to the fact Cardi B is allegedly "blood" and Blueface is supposedly "crips".
The Best Rap Album Grammy Winner artist, looks stunning in the new music video, featuring the cutest fit. Cardi wears a rhinestoned, red paisely chaps and a matching cowboy hat.

The original version of 'Thotiana' featured on Blueface's second mixtape, 'Famous Cryp', which was released in 2018. Cardi B's rap rival Nicki Minaj recently freestyled over the song with her own twist "Bust Down Barbiana" and it has also been remixed by Compton rapper YG.
'Thotiana Remix' is the second collaboration Cardi B has dropped this week, with the "Money" artists collaboration with Bruno Mars, arrived on Feb 15th.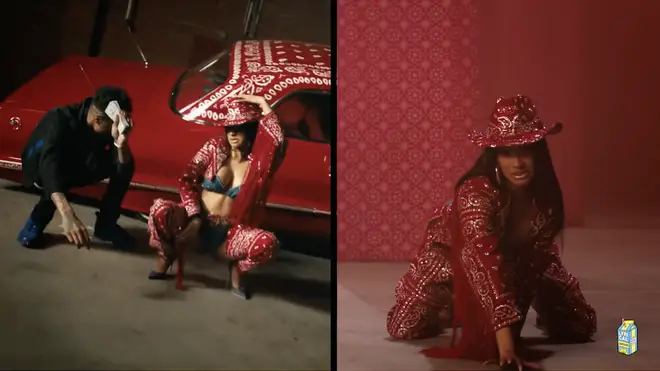 Fans were going crazy anticipating Cardi B and Bruno Mars song, due to 'Finesse' being such a success. On 'Please Me', the two artists throw it back and deliver a '90s-inspired RnB slow jam.
Cardi B made history at last weekend's Grammy's where she became the first female solo artist to win the Best Rap Album award.
However, the Grammy winner faced quite a lot of backlash from critics and industry people who claimed that she didn't deserve the accolade.
The rapper responded by saying she had "worked her ass off" for the award on Instagram then shortly after, deleted her account. She activated it again to reveal her song with Bruno Mars.