Cardi B Responds After Being Spotted Around Smokers During Club Appearance
8 June 2018, 11:52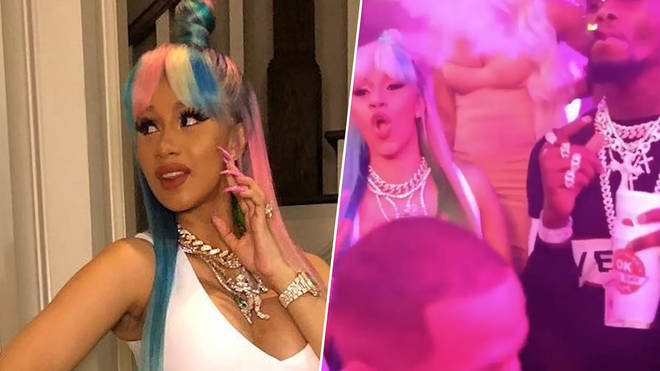 The pregnant rapper is approaching her rumoured due date.
Cardi B has sparked major debate amongst concerned fans after she was spotted surrounded by 'secondhand smoke' during a recent club appearance.
The heavily pregnant rapper, who is assumed to be just weeks away from her due date, was attending a birthday party for Pierre Thomas, the founder of Quatiy Control Music, in Atlanta last night (7th June).
Accompanied by her fiancé Offset and his fellow Migos members, footage of the pair turning up in the club caused controversy due to the smoke that Offset blows near her face at the end of the video.
The comments section soon filled up with anxious fans throwing warnings at Cardi about the dangers of smoking around a pregnant woman. Others targeted Offset for his irresponsible behaviour.
"He is selfish," wrote one fan "He doesn't even consider your child he's smoking like u ain't standing next to him girl ur gonna be a single mum cos he's all about himself."
Following the backlash, Cardi took to the Instagram comments to highlight the effects that stress can have on an expecting mother. The 'Bodak Yellow' rapper was likely referring to her spat with Azealia Banks, which saw her delete her temporarily Instagram account last month.
"So now ya so concern on what can harm my baby? But when bitches was attacking me online every day ya wasn't concerned about any or not!" she wrote.
"Don't the mother's stress in the brain and in the body harm the baby? But ya ain't gave a fuck though right? 'Cause it was entertaining to ya."
"Don't worry about me and mines and what I'm doing," she added, "Me and my baby is great."
Meanwhile, the Bronx native has shown no signs of slowing down. In recent weeks, she's dropped the music videos for 'I Like It,''Be Careful,' 'Dinero,' as well as appearing in the videos for Maroon 5's 'Girls Like You' and Rita Ora's 'Girls.'
Offset is yet to respond to the controversy.