Cardi B Responds After "Disgusting" Martin Luther King Sketch Receives Huge Backlash
29 August 2018, 15:03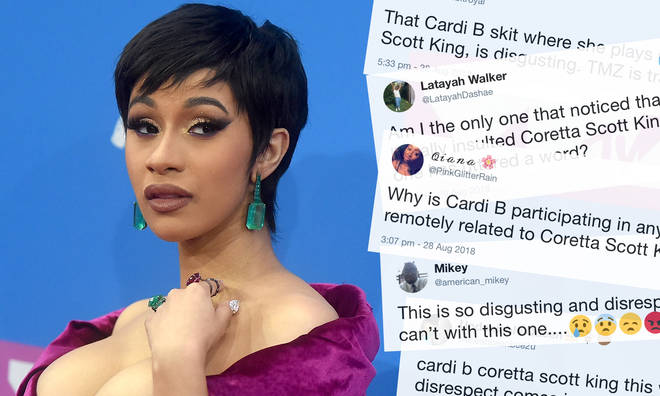 The rapstress came under fire this week.
Cardi B has apologised to the family of Martin Luther King after a video of her portraying his late wife Coretta Scott King received backlash.
The 'Bodak Yellow' rapper appeared in a leaked skit titled 'The Real Housewives of the Civil Rights Movement', which was posted by TMZ yesterday (28th August.)
Cardi portays the late civil rights activist's wife in a comedy sketch - which aims to parody the 'Real Housewives' franchise - taken from Wild 'N Out star Rip Michaels' new show, 'Off the Rip.'
Rosa Parks and the wives of Rev. Jesse Jackson and Malcolm X also feature in the skit. The storyline follows the group of women as they try to plan a rally.
"All the h*ssies wanna sleep with my husband," Cardi says at one point during her portrayal. "But it's alright, 'cause I know he marches home to me."
Elsewhere during the sketch, a white woman identified as "The Iggy Azalea of the Civil Rights Movement" claims to have slept with Dr. King.
The video was posted online on the same day as the 55th anniversary of King's iconic "I Have A Dream" speech, and went on to receive major backlash.
Why is Cardi B participating in anything even remotely related to Coretta Scott King 🙄🙄

— 𝒬𝒾𝒶𝓃𝒶 🌸 (@PinkGlitterRain) August 28, 2018
Am I the only one that noticed that Cardi B literally insulted Coretta Scott King and no one has uttered a word?

— Latayah Walker (@LatayahDashae) August 29, 2018
That Cardi B skit where she plays Coretta Scott King, is disgusting. TMZ is trash.

— A Little Royal (@alittlebitroyal) August 28, 2018
Dr. Bernice King, the youngest child of Martin Luther King Jr. and Coretta Scott King, labelled Cardi's portrayal of her mother as "repulsive" and "false" and claimed she was "using a platform that her parents made possible in an atrocious way."
However, she later thanks Cardi for her apology after she reached out to her following the criticism. "Thank you, @iamcardib, for reaching out to me and apologizing for the skit that aired on @TMZ," she wrote. "I look forward to talking with you soon."
Rip Michaels also took to Twitter to defend Cardi and ask for others to deflect their criticism into his team, writing "Any backlash should be directed towards me & my staff."
Thank you, @iamcardib, for reaching out to me and apologizing for the skit that aired on @TMZ. I look forward to talking with you soon.

— Be A King (@BerniceKing) August 28, 2018
Heyyyy guys it's been a hectic day but I had to take time out to address a few things. Any backlash should be directed towards me & my staff pic.twitter.com/bP7FMAKAwY

— RIP MICHEALS!! (@ripmicheals) August 29, 2018