Cardi B Reveals The Effects Of Her Cosmetic Surgery With A Shocking Photo
10 June 2019, 15:32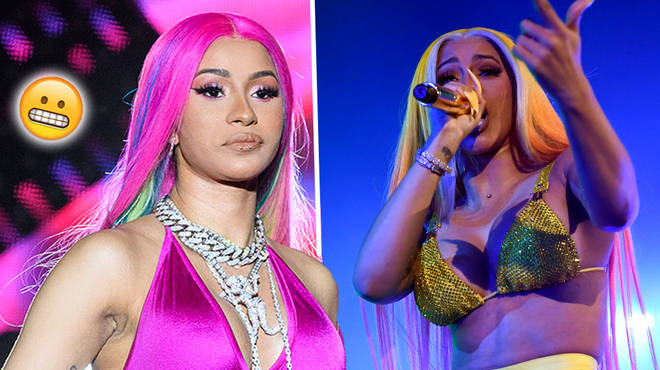 Cardi B has taken to Twitter to show her fans the consequences of flying abroad while she is meant to be resting due to surgery complications.
Cardi B has been very open about her cosmetic surgery ever since she revealed that she got liposuction during her concert. The "Press" rapper has received a lot of backlash after having to cancel shows to fully heal from her surgery.
The 26 year-old rapper has taken to social media to show the effects of her surgery after fans accuse her of cancelling her shows as a way to sell more tickets in anticipation for her September shows. 
On Sunday (Jun 9th) Cardi B took to Twitter to explain why she has been trying to refrain from travelling. The New York rapper wrote "Look how swollen my feet get every time I take flights my stomach gets even more puffy."
She continued: "Reasons why my doctor told me to chill on shows cause my feet and stomach burn when I get puffed up NOT due to ticket sales. Stop talking sh*t f*ck outta here"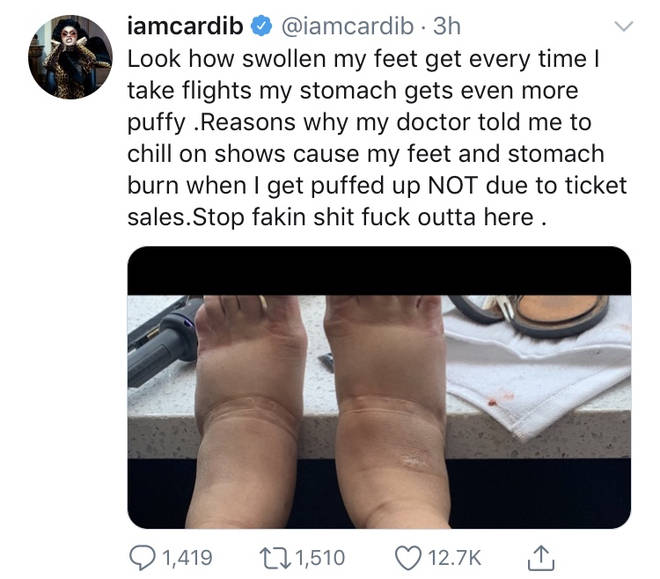 She inserted a photo of her swollen feet, along with the tweet explaining why she doesn't take flights due to her surgery.
Cardi also dressed the rumours in another tweet.
She tweeted "LMAAOOO All of the shows I canceled were sold out they even put it on the news on the El Paso news."
Cardi continued: "I even show ya how swollen my feet got when I get off a plane so imagine how my stomach and my back get and the pain I feel due to surgery. Stop lying on me!"