WATCH: Cardi B And Bruno Mars Get Acquainted In Racy Visuals For "Please Me"
1 March 2019, 16:53 | Updated: 1 March 2019, 16:57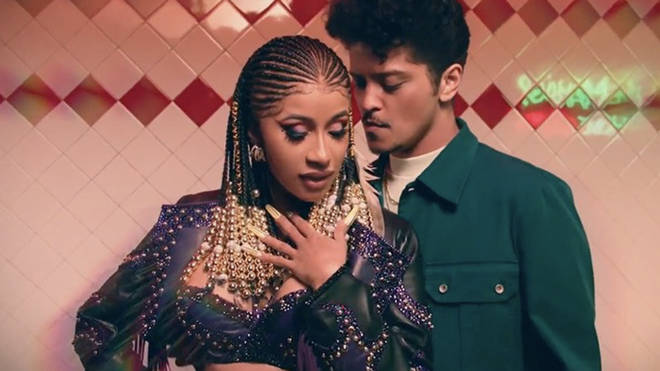 Cardi B and Bruno Mars unveil racy visuals for recently dropped bedroom jam "Please Me"...
Just a few weeks ago (February 15th) Cardi B and Bruno Mars dropped another collaboration for "Please Me". After the "Money" superstar remixed Bruno Mars "Finesse" and it became such a success, fans highly anticipated "Please Me". Now fans are super excited and overfilled with joy as the "Please Me" visuals been unveiled.
Cardi B and Bruno Mars linked up to deliver tasty and racy "Please Me", which found the pop superstar openly indulging in a bit of naughty fun.
The music video is set "after the party" in a Taco's restaurant in California, with a very "southern" vibe, where Bruno is surrounded by his supposed "Mexican" guy friends, when the love of his life walks in the restaurant.
The "I Like It" rapper rolls in the restaurant with her girls and makes an entrance in a sexy matching sparkly three piece outfit which features; a bralet, high waisted knicker shorts and biker jacket.
Cardi B and Bruno Mars have great chemistry and get acquainted in the video as each other's crush. The artists both has the choreography down to a T. Not one beat was missed. The artists were pop, locking and dropping on every beat.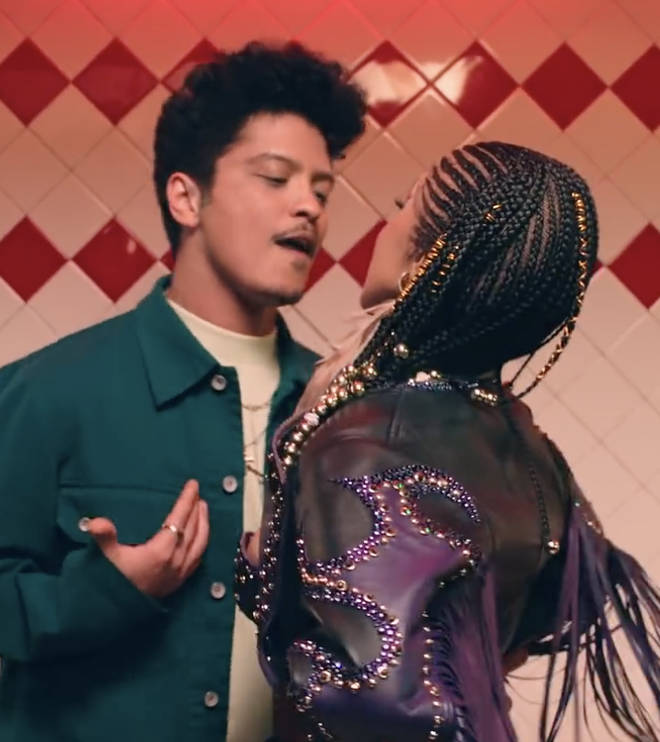 "Lollipoppin" and twerking in her long thigh high boots, Cardi amazes fans watching in total admiration of her. With her hair, nails, makeup and outfit on fleek, Cardi definitely came to slay.
The "Bodak Yellow" rapper, bumps and grinds while rapping "Lollipoppin',  twerkin' in some J's, on the dance floor, no panties in the way," in her opening verse. Along with the sexual lyrical content, Cardi portrays a "bad gal" image in the video, which is not far from her actual personality.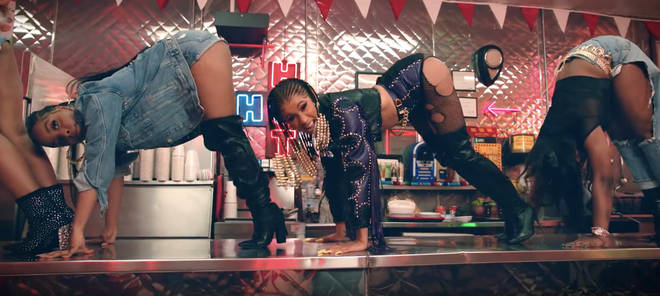 Fans love seeing Cardi in action, especially when she's being herself. the fact that Bruno Mars is her "love" in the video, has got everyone talking. Bruno Mars has got the girls talking as he tidies up well and goes for a smooth and cool look in the visuals. Mars hits them with total swag and style with his dance moves.
"Finesse" captured such wholesome, nostalgic fun which took you back to the 90's period. "Please me" is the complete opposite, where the visuals are appropriately sensual, with Cardi once again turning in an amazing performance. Bruno also did his thing and held it down for the fellas.
It will be interesting to see where they take it next.