Cardi B Reveals That Offset Has Already Named Their Baby & Fans Are Guessing
19 April 2018, 10:40 | Updated: 19 April 2018, 10:52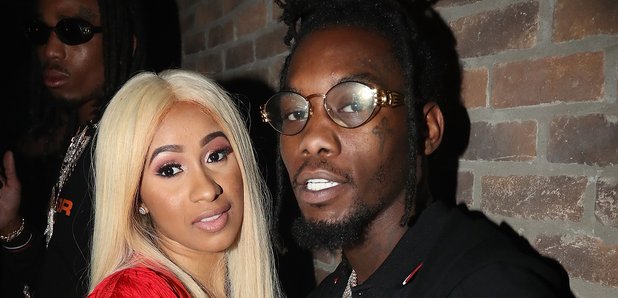 What has Cardi B named her baby?
Cardi B has revealed that she has already settled on a name for her first baby and fiancée Offset made the decision.
The 'Bodak Yellow' rapper broke the surprising news during a new interview with Ellen DeGeneres.
"Yeah, my dude named the baby," she said on the popular talk show.
"I really like the name. I'm [going to] let him say the name because he named the baby," she added.
Cardi B and Offset got engaged in October 2017, following eight months of dating.
26-year-old Offset already has three children – two sons called Jordan, Kody and a daughter Kalea Marie.
A woman also claims to have given birth to Offset's daughter and called the child Karma – however he has fiercely denied all accusations.
Fans took to Twitter to reveal their guesses:
@iamcardib So you should name the baby Belcardi Kiari because combining your real name with your stage name AND offset real name would be epic

— Mommy (@shesADoll__) April 19, 2018
Offset and Cardi B gonna name their baby Balenciaga or some dumb shit like that

— Big Bummy Brand (@d4rrick) April 18, 2018
Cardi B and Offset must name their baby "Carset" . pic.twitter.com/6m7ygXZzjc

— Bottom Baby (@Sykhopath) April 12, 2018
I will be very disappointed if Cardi B doesn't name her baby Junie B.

— Spring Shaw (@springashaw) April 11, 2018
Why do I feel like cardi b gonna name the baby ONSET

— pedro anuel (@yungpedro210) April 9, 2018
whatchu gonna name the baby? Champagne ?

— lucya (@Iucya_) April 8, 2018
Meanwhile, Cardi B recently revealed her pregnancy during her appearance on Saturday Night Live.
The Bronx-born rapper also defended her vigorous twerking on stage at Coachella during her performance.
"The more you move, the easier [the baby] will come out," she told Ellen.
"I was just trying to show the world how I got pregnant in the first place. Like that! That's how it happened."

Cardi B will reportedly deliver her baby in June, which forced her to cancel her appearance at Wireless Festival.