Calvin Harris Slams Zayn Malik In Twitter Feud Over Artists' Rights
18 August 2015, 09:58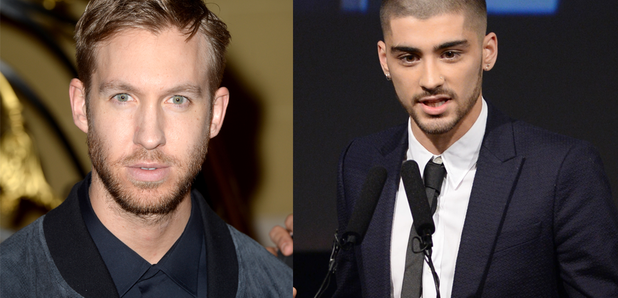 Calvin defended his girlfriend Taylor Swift.
Calvin Harris has been involved in a Twitter feud with former One Direction star Zayn Malik.
The superproducer jumped into a heated debate over artists' rights.
It began when the Twitter account @FemaleTexts posted side-by-side quotes from Miley Cyrus and Taylor Swift showing their differing views on streaming music services.
Cyrus has a relaxed attitude towards streaming, whereas Swift famously recently threatened to remove her music from Apple and Spotify services.
FemaleTexts said "the difference is astounding" between Swift's point of view and Cyrus' quote: I've made my money. If no one buys my album, cool its fine."
Zayn Malik retweeted the original post.
Calvin Harris jumped to the defence of his girlfriend Taylor Swift, tweeting: "You've made your money? Cool… f**k the 99% of musicians who depend on these services to survive right? Yeah f**k em."
@FemaleTexts @zaynmalik You've made your money? Cool...fuck the 99% of musicians who depend on these services to survive right? Yeah fuck em

— Calvin Harris (@CalvinHarris) August 17, 2015
He added: "If u don't get what it means when a successful artist uses their celebrity to benefit every other musician and songwriter in the industry, stay out of my f*kin mentions pls. Meaning… stay out of things you don't understand."
Malik hit back, writing: "ha you just made an absolute fool of yourself mate… so I suggest you calm your knickers before them dentures fall out."
@CalvinHarris ha you just made an absolute fool of yourself mate

— zayn (@zaynmalik) August 17, 2015
He then tweeted without directly mentioning the producer, adding: "Oh and I write my own sh*t too d**khead."
However Harris appeared to take the jabs with good humour, writing: "best of luck, genuinely. You've got a great voice."