Women's Rights Group Demands For Eminem & Big Sean To Be Arrested
7 February 2017, 12:16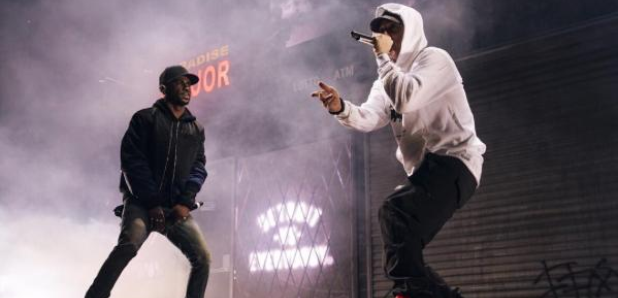 Their new collaboration hasn't gone down well with everyone...
A women's rights group in Canada is urging for Eminem and Big Sean to be arrested following their new song 'No Favors'.
In the track on Sean's new album 'I Decided', Eminem fires shots at political commentator Ann Coulter.
"And f*ck Ann Coulter with a Klan poster, With a lamp post, door handle shutter," he raps.
"A damn bolt cutter, a sandal, a can opener, a candle rubber.
"Piano, a flannel, sucker, some hand soap, butter, A banjo and manhole cover."
The women in question, Ann Coulter, brushed off the diss via TMZ, claiming Slim Shady was simply trying to get publicity.
However Canadian Women's Rights group RINJ (Rape Is No Joke) wants further action to be taken.
In a lengthy press release, they refer to Eminem and Big Sean as "rape rappers" and say they should be boycotted and arrested.
"When rappers like Eminem and Big Sean encourage the commission of felonious crimes, they themselves commit an indictable offence in the USA and could be arrested.
"For the crime of suggesting to millions of people that it is "OK" to rape Ann Coulter or by their possible inference that it is "OK" to rape any women you are angry with, Eminem and all parties to this crime should be arrested," The RINJ argue.
The group's CEO Michael O'Brien posted the following message on Facebook:

Meanwhile, Big Sean's new album 'I Decided' is out now, featuring appearances from Eminem, Jhene Aiko, Migos and more.