Big Sean Reacts To Justin Bieber Getting Too Close To Ariana Grande
10 April 2015, 10:00 | Updated: 10 April 2015, 10:01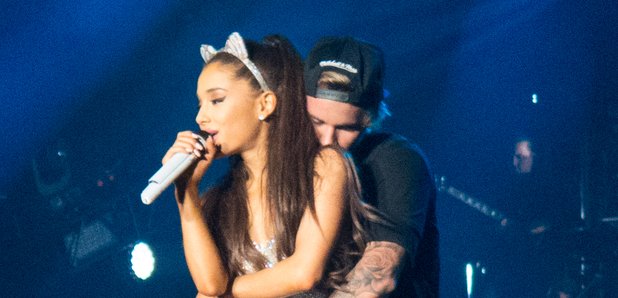 Read some of the best reactions on Twitter.
Yesterday an awkward video of Justin Bieber getting slightly too close to Ariana Grande during a performance together at the 'Problem' singer's concert in California went viral.
Big Sean gotta be heated https://t.co/OAE84bhzrm

— Marcus (@OpTic_MBoZe) April 9, 2015
Since the clip, which shows a visibly uncomfortable Ariana back away from Biebs as he gets too handsy with her, surfaced some fake Big Sean tweets, ones that his rep insists were never posted by the Detroit rapper, have been doing the rounds.
But on the night it happened, while Big Sean was performing at his own concert in Ottawa, Canada he did post this tweet:
so many times in my life I wish I could of been at 2 places at once

— Big Sean (@BigSean) April 8, 2015
Since then, Ariana, Justin and Big Sean fans have all been posting their own interpretations of what happened on Twitter. Here's a round-up of some of the best:
Big Sean was in the back like pic.twitter.com/Jq26zB2Jd2

— Trippy Tweets (@TripInATweet) April 9, 2015
Big Sean is gonna write IDFWU Part 2 after this lmfao https://t.co/QGAmhXrKYu

— ⠀ (@lustfuIl) April 10, 2015
Lmao Big Sean about to make an IDFWU2, IDFWU3, IDFWU4, and an IDFWU movie. pic.twitter.com/oNm1VAf1Ej

— Black (@HowiEazy) April 10, 2015
You know big sean took all her toys away when they got home and shes grounded for a month pic.twitter.com/uECkqFc8QV

— Bitch Problems ♚ (@ItsThingsInLife) April 9, 2015
What I will say is that Big Sean should have gone bk stage after the show & had a 'friendly' chat with Mr. Bieber about his future conduct.

— #OnTopicTalkShow (@MarvAbbey) April 9, 2015