Big Sean Drops 'No Favors' Featuring Eminem - LISTEN
3 February 2017, 11:39 | Updated: 3 February 2017, 14:20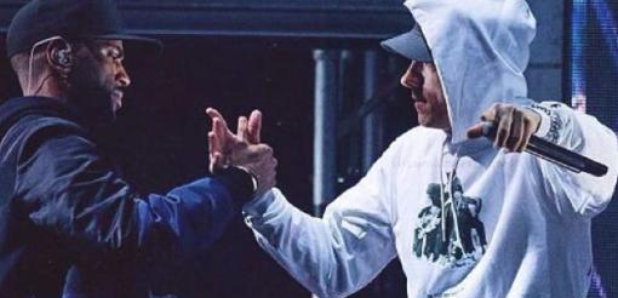 'I Decided' is out now.
UPDATE 03/02/17
Big Sean has finally dropped 'No Favors', his hotly-anticipated collaboration with Eminem.
The Detroit duo both spit intricate lyrics during the hard-hitting track, with Slim Shady displaying a gruff, sinister voice.
Listen to 'No Favours' below:
Eminem even references President Donald Trump and Dr. Dre in his epic verse:
"Trump's a b*tch / I'll make his whole plan go under," he raps.
"And tell Dre, I'm meeting him in L.A."
Sean's new album 'I Decided' is available now to purchase, stream and download.
01/02/17
Big Sean previewed his new Eminem collaboration 'No Favors' during a listening party for his new album 'I Decided' this week.
The rapper played the song to an intimate crowd in his hometown at the Museum of Contemporary Art Detroit during a 45-minute listening session, the Detroit Free Press reports.
Footage of the high-energy track soon appeared online, which featured Big Sean's verse as well as the hook of the song.
Big Sean's verse on No Favors. pic.twitter.com/kZyfhuhswr

— 3 dayz ~ (@ConfidentSword) February 1, 2017
The highly-anticipated track went down a storm with audience members, which included his parents, brother and high-school friends as well as hoards of adoring fans.
Members of Flint Chosen Choir, who appear on the forthcoming album's final track 'Bigger Than Me', were also in attendance.
According to the report, the listening conditions in the venue "weren't ideal" with Sean later apologising for the sound issues.
The audience, however, were "friendly" and "supportive" enough to look over it.
The 'Bounce Back' rapper recently labelled his fellow Detroit native Eminem "the biggest rapper of all time" in an exclusive interview with Capital XTRA.
"When I heard the verse, you can just imagine my feelings," Sean said of hearing Eminem's work on 'No Favors'.
"It reminded me of the first time I heard him from an excitement standpoint. I was so excited hearing it."
'I Decided' drops Friday 3rd February and features more collaborations with Jhene Aiko, Migos, The Dream, Starrah and Jeremih.