Big Sean Is Being Seriously Dragged For His New Lyrics & The Tweets Are Savage
11 December 2017, 11:26 | Updated: 11 December 2017, 11:34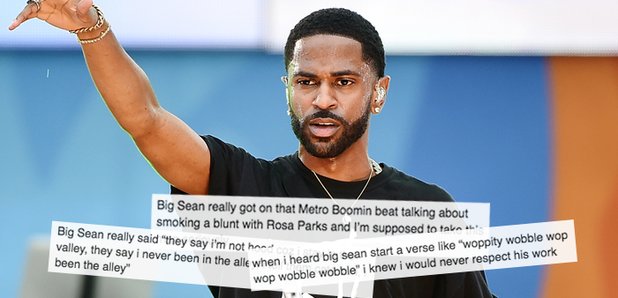 "Apple music need to give me my money back for this month."
Last week saw the release of Big Sean and Metro Boomin's surprise collaborative mixtape, 'Double Or Nothing'.
And while Boomin's production skills received universal praise across the board, Sean Don's new bars have left fans somewhat split down the middle.
After the mixtape dropped on Friday, listeners took to Twitter in their masses to discuss the 'I Decided' rapper's latest efforts.
Many fans were impressed with the Detroit native's lyrical content, while others were quick to mock some of his lines.
Big Sean really said "I wanna move in my safe, like my safe was a safehouse" & I immediately restored my laptop back to factory settings just to get that shit outta my library.

— Mark Mane La Flare (@BossmanJiggetts) 8 December 2017
Big Sean really said "they say i'm not hood coz i stay in the valley, they say i never been in the alley, i tell them cats huh, i been the alley" pic.twitter.com/0X8oNO3r0Q

— Trashvis (@Trashvis) 8 December 2017
big sean said "i'm a legend, my friends john legend" and you guys are really mad at me for saying he's garbage

— FLOWBE BRYANT (@fraanciscoooo) 9 December 2017
this nigga big sean fr said "im not playin with u bitches this aint the wnba" ion wanna hear this type of buffoonery ever again pic.twitter.com/QdLS6Jt6ad

— dev (@Onecooldudelol) 8 December 2017
Tough to say what the worst bars on that Big Sean tape are

But I mean pic.twitter.com/P1Bfs9z4wC

— Hanif Abdurraqib (@NifMuhammad) 8 December 2017
when i heard big sean start a verse like "woppity wobble wop wop wobble wobble" i knew i would never respect his work

— Boulevard Dee (@EminemOverrated) 8 December 2017
The wild thing about people defending this Big Sean project is that they're trying to make you believe the music is going over your head when in reality he's literally saying the worst lines I've ever heard compiled in one place

— Lip Gallagher (@tonestradamus) 8 December 2017
big sean really said "what goes around comes around faster than fidgets" nah this dude really a cornball

— — (@rohanjarvis13) 8 December 2017
Fans are also speculating that Sean is taking shots at Kendrick Lamar on his new track 'Big Bidness' following years of back-and-forth subliminal disses.
The beef between the pair recently came to light after Lamar's shot in 'The Heart Part 4', where he said: "My fans can't wait for me to son your punk ass and crush your whole lil sh*t".
In Sean's new rumoured diss, he spits: "Nobody sonning me / If am a sun, I'm the one you look up to / F*ck you".
Both rappers are yet to respond to the speculation.
Big Sean is going at Kendrick on Big Bidness pic.twitter.com/5PvjLwebKo

— Briel Jones (@Size13Benard) 8 December 2017
Whoa! So Sean throwing shots at K. Dot on "big bidness "? pic.twitter.com/004pK3dOav

— JaysFitness (@coolassjayy) 9 December 2017