Watch Beyonce Stop Mid-Performance To Help Her Backup Dancer With Surprise Marriage Proposal
12 September 2016, 10:22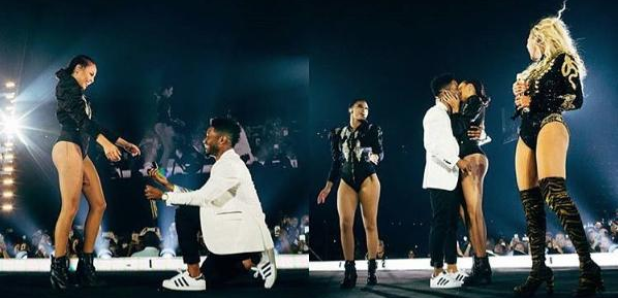 Bey helped him put a ring on it.
Beyonce was in the middle of performing 'Single Ladies' during her Formation Tour in St. Louis, when she stopped mid-song to surprise her dance captain with an engagement.
Queen Bey paused and handed the mic to one of her backup dancers John Silver, who proposed to Beyonce's dance captain Ashley Everett live on stage.
Watch the amazing moment below:

Beyonce then jokingly asked Everett if she was alright to continue, before powering on through her epic set.
This was Bey's first show since she took a month-long break, following the end of her European tour.
In that time she celebrated her 35th birthday, in which she threw a star-studded 70s-themed fancy dress party alongside her former Destiny's Child members Kelly Rowland and Michelle Wiliams, Usher, Chance The Rapper and more.