Beyonce Gave Amy Schumer Permission To Parody 'Formation'
27 October 2016, 12:39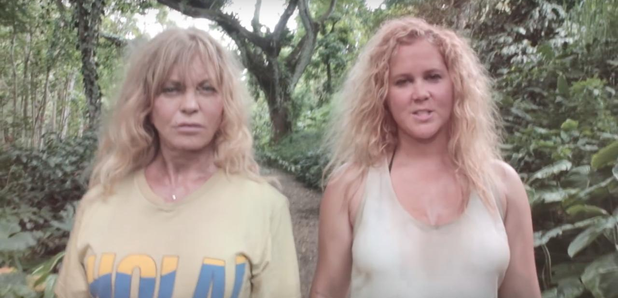 #AmySchumerGottaGoParty trended worldwide.
UPDATE
Amy Schumer has faced a huge amount of backlash for her parody of 'Formation'.
However, reports now claim that she actually had Beyonce's permission all along.
After Twitter uses labelled the video as 'racist' and 'problematic', a source told CNN that the comedienne did in fact have Beyoncé's 'blessing' to use the song.
26/10/16
Amy Schumer has been criticised for her parody of Beyonce's 'Formation' music video.
The video, which also features Schumer's 'Mother/Daughter' co-star Goldie Hawn and actress Wanda Sykes, has faced extreme backlash and has been labelled as 'racist' and 'problematic'.
Watch the video below:
Calling out Schumer for cultural appropriation, users questioned whether a song which focuses on police brutality and black empowerment should be suitable for a parody.
In the video, co-stars Schumer and Hawn are wearing shirts that say 'Texas Bama', which TIME have pointed out as 'a racially complex term historically used in a derogatory manner.'
Twitter uses even created a #AmySchumerGottaGoParty hashtag, which trended worldwide after the recreation aired.
Actual footage of me watching a dirty Amy Schumer gyrate to Beyoncé and call it comedy... then Wanda showed up. #AmySchumerGottaGoParty pic.twitter.com/gUVXmSpvfE

— Alaina GE (@LainaDAZE) October 24, 2016
It is weird to me that @amyschumer thought a song about the police killing black people was perfect for a parody #AmySchumerGottaGoParty

— Andrea Johnson (@ndreajohnson) October 24, 2016
Amy Schumer made a parody of Formation, a song about female black empowerment, with a bunch of other white women...what a mess

— jordan rose (@maliagif) October 24, 2016
#FormationParody is a garbage piece of "comedy" done by a garbage comedienne, "sometimes feminist" Amy Schumer #AmySchumerGottaGoParty

— Random Brown Girl (@moonr0cks) October 24, 2016
Sorry, I'm late, had a pie in the oven. What I miss? #AmySchumerGottaGoParty pic.twitter.com/mSq4KmG2FE

— GirlTyler (@sheistyler) October 24, 2016
Ironically, the video premiered on Tidal, which is owned by Beyonce's husband Jay Z.
The comedienne responded to the comments by posting a semi-naked photo of her lounging on a bed:
'You know you that bitch when you get conversation' she captioned the picture, quoting Bey's lyrics in apparent acknowledgment to the video's backlash.
Beyonce is yet to comment on the video.