People Think Beyonce Has Revealed Her Baby's Names & Genders From These Photos
3 April 2017, 12:47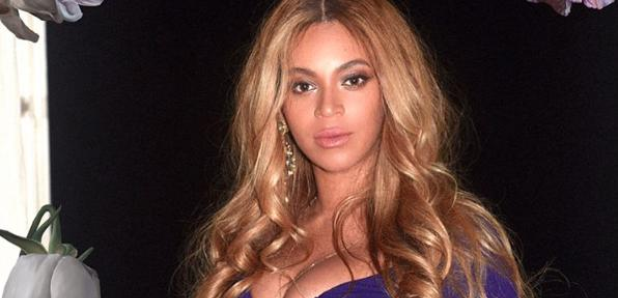 Clues, clues and more clues...
Beyonce is fast approaching her rumoured due date, and people think the heavily pregnant star is dropping some serious hints regarding her expected bundles of joy.
The 'Lemonade' star has posted a new series of selfies on her Instagram account from a recent date night with husband Jay Z, which show the singer wearing a figure-hugging floor length gown in an indigo hue.
The photo montage was aptly set to 'Pop That Thang' by the Isley Brothers and saw Bey pose against a backdrop of huge painted flowers by artist Othelo Gervacio.
Bey and Jay's first-born daughter Blue Ivy can be seen hugging her mother's pregnant belly in one adorable snap.
The singer also flaunted a pair of jewel-encrusted earrings, a shining sapphire ring and some seriously bedazzled shoes.
Naturally, members of the Beyhive were on hand to speculate whether the R&B star was trying to hint at anything in the new photos regarding the twins.
Users took to Twitter to discuss the colours of Bey's dress, with some suggesting the purple tone was a cryptic clue towards a boy and a girl combination.
Beyoncé is having a boy and a girl. She had on a purple dress. Blue mixed with pink makes a purple color.

— supreme (@kidludi) April 2, 2017
Beyonce & Jay Z having a boy & girl. First pic was pink & blue & so are these. pic.twitter.com/2FTlKyI16e

— Mel (@MellyMel320) April 2, 2017
BEYONCE is having a boy and girl, she dropping MAD hints on ig!!!! #SaveThisTweet #watch

— Lioness (@iWear_TheTiara) April 2, 2017
Lemme find out these subliminals means you're having a boy & girl!!!! @beyonce

— Nique (@U_NlQUE) April 2, 2017
Another theory circling around the Twittersphere revolves around the flower concept behind Bey's new snaps.
Some fans think that the singer will be naming her twins with a flower theme in mind.
Beyoncé's giving her babies flower names

— easily offended mami (@_ethnititties) April 2, 2017
Beyoncé has flowers somewhere in every picture she posts these twins are about to be named after some type of flower bet

— (@beytrash) April 2, 2017
Beyoncé's twins will be named after some type of flower/plant. All this imagery she's giving us. I know it

— DRJ (@OhHeyDlay) April 2, 2017
Beyonce is, of course, yet to officially respond to the rumours.
We need details, Bey.