Beyonce Has Finally Been Spotted With The Twins & Fans Are Losing It
13 November 2017, 13:00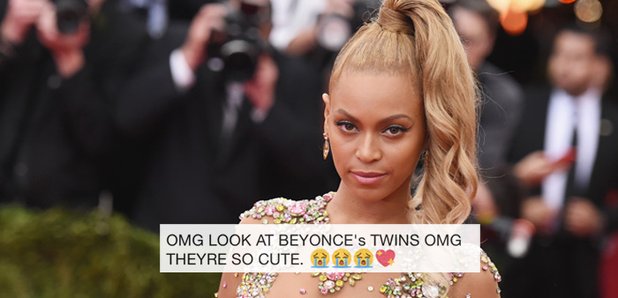 Rumi and Sir are now five months old!
It's been four months since Bey unveiled her newborn twins, Rumi and Sir, to the world via Instagram.
The 'Lemonade' star and her husband Jay Z have kept the twins firmly out of the limelight since their epic reveal, being spotted only once until now.
Over the weekend, new photos surfaced of Bey and her mother, Tina Lawson, each holding a child who are assumed to be Rumi and Sir.
Another woman, who looks to be Jay's mother Gloria Carter, can also be seen holding a child in one of the new images.
And as expected, The Hive were overcome with excitement after the photos leaked online.
Me after seeing Sir and Rumi exist pic.twitter.com/QQLRWFv7N8

— queen (@the_madds) 11 November 2017
Beyoncé finally gave us pics of Rumi and Sir. They're beautiful! pic.twitter.com/4VBTvsmS0Y

— dejon. (@_Chickenist) 11 November 2017
So Sir and Rumi are actually real, growing and thriving and it wasn't a figment of my imagination wow pic.twitter.com/dxwQC0rcs7

— Coco (@guccibaiby) 12 November 2017
I was not prepared to see photos of Rumi and Sir. I can't breathe. pic.twitter.com/2QpigXCFmz

— ㅤً (@The__Prototype) 11 November 2017
Oh my God I know Sir and Rumi get showered with kisses. They're tooooooooooo cute

— Cyn Santana (@Cyn_Santana) 11 November 2017
#20YearsofBeyoncé being in the game still breaking records...... and seeing Sir & Rumi on this day made it so emotional pic.twitter.com/ug3hecNXZF

— beylamént thomas (@Official_Lament) 12 November 2017
Fans of the R&B songstress have been following their idols pregnancy since the surprise announcement back in February.
Meanwhile, the mother-of-three is set to voice the character of Nala in the upcoming live adaption of Disney's 'The Lion King'.
The star recently made a surprise appearance on Eminem's comeback single, 'Walk On Water'.