Beyonce Sneezed Mid-Performance And Everyone Completely Lost It
9 June 2016, 10:11 | Updated: 9 June 2016, 10:28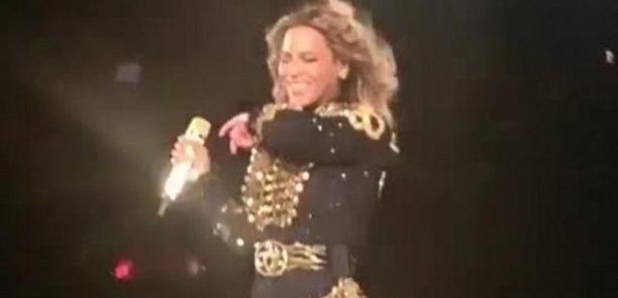 Bey sneezed on the beat and it got sicker.
In the eyes of many Beyonce fans, the 'Lemonade' singer is as close to perfection as it can get.
Which perhaps explains why everyone completely freaked out when she sneezed on stage during a performance of 'Love On Top' on her Formation World Tour.
The 45,000-strong audience at Citi Field in New York erupted in cheers, while social media went crazy.
Watch the moment below:
The 34-year-old singer carried on flawlessly however the situation wasn't missed by eagled-eyed Twitter users, who went into overdrive.
Check out the some of the best reaction below:
BEYONCÉ JUST SNEEZED THE MOST ADORABLE SNEEZE #FormationWorldTour

— Nik (@njnic23) 8 June 2016
I saw @Beyonce sneeze on stage during the #FormationWorldTour and it changed my life.

— Lerna (@Lerna) 8 June 2016
Didn't even know Beyoncé could sneeze yo

— Desus Nice (@desusnice) 8 June 2016
I'm lowkey mad Beyonce didn't sneeze at the Toronto show too. Yes, I know how ridiculous I am.

— DaenGerys TarGaryen (@MimieZaforas) 8 June 2016
Just so we're clear, Beyoncé's sneeze made international headlines pic.twitter.com/Er2Ggmw8LR

— baddie bey (@Beygency) 9 June 2016
I sneeze, Beyonce sneezes, therefore I am Beyonce. pic.twitter.com/8s2Z9AQ3Bc

— Gabby. (@GabrielleMonae) 9 June 2016
Now every time I sneeze, I feel closer to Beyonce. Thank you Bey! #ShesOnlyHuman #Beyonce

— Cato Louw (@catolouw) 9 June 2016
I'm literally so excited to tell everyone at work tomorrow that Beyoncé knows to sneeze into the crook of her arm

— v (@harryhateskale) June 8, 2016
Meanwhile, Beyonce was recently handed an award for being a fashion icon by prestigious institution CFDA.
The 'Sorry' singer gave an inspired acceptance speech, encouraging people to "embrace their complications, and see the flaws, and the true beauty and strength that's inside all of us."