Beyoncé Has A Secret Snapchat And The Hive Are Hunting It Down
24 February 2017, 12:30 | Updated: 24 February 2017, 12:31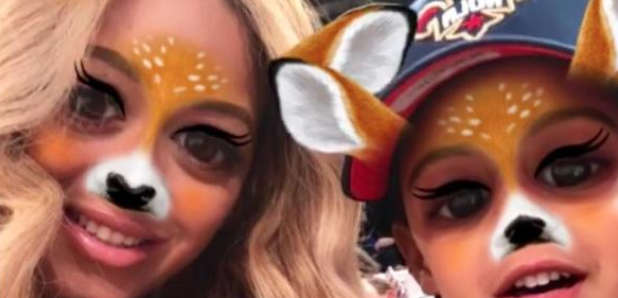 This is a state of emergency.
It looks like Beyoncé might have a secret Snapchat account and the Hive are totally losing it.
The R&B singer recently posted a selfie alongside her daughter Blue Ivy with the familiar deer filter covering their faces.
Bey has remained elusive on the popular app until this point, and it was generally assumed she didn't actually have an account at all.
There was speculation back in August last year, however, when Beyoncé's mother Tina Knowles shared a post on Instagram which appeared to reveal that her daughter does indeed use Snapchat.
Tina later denied the claims, but now fans are starting to believe the rumours are true.
TMZ: Does Beyoncé have a secret snapchat?

Mrs. Tina: pic.twitter.com/wWN1Co9RVR

— MarQuise, bitch (@_ThatsQuise) February 24, 2017
WHATS YOUR SNAPCHAT? @Beyonce pic.twitter.com/HKAP6pc5Gk

— Fatima (@ANTlFatima) February 23, 2017
Are we letting Beyoncé pretend she don't got a Snapchat for the rest of the year? pic.twitter.com/dDSlIWtkqe

— ALLA DIS WINNIN' (@surfyonce) February 23, 2017
Omg wait. Does this mean Beyoncé has a secret snapchat?! Pulitzer for the first entertainment reporter who finds it! pic.twitter.com/ZrNLkryDK1

— Sylvia Obell (@SylviaObell) February 23, 2017
So which one of yall hackers is going to figure out what Beyoncé's snap chat is so we can all add her

— Hanna (@Woman_of_Gold) February 24, 2017
This heffa Beyoncé had a Snapchat under our noses the whole time? Who knows how many songs she might've previewed on her story pic.twitter.com/LRoK9DhoS4

— Alluring Ivy (@Drebae_) February 23, 2017
Beyoncé has a snap chat & bitches we need to find it !!! pic.twitter.com/XD72x4eDhu

— (@xxMERE) February 23, 2017
But some people think it might actually be Blue's account...
plot twist: Blue has Snapchat, not Beyoncé.

— Princesa (@ghettoboyyy) February 23, 2017
lool.. i doubt Beyonce has a snapchat.. its probably blue's snapchat, or someone else's

— Grimmobeast Ghadzi (@adjewodah) February 24, 2017
I really just think it's Blue's snapchat-- the version for babies and kids, and they just posted a pic of that because Beyonce liked it

— queerboy+blackwhimsy (@fechiii) February 24, 2017
Plot twist: It's not Beyoncé's snapchat, it's Blue's pic.twitter.com/zDPcT2HA45

— SÉTH (@SethJCarter94) February 24, 2017
We're waiting, Bey.