Beyonce & Rihanna Fans Excited After Mysterious Collaboration Leaks Online
13 March 2018, 10:16 | Updated: 13 March 2018, 10:18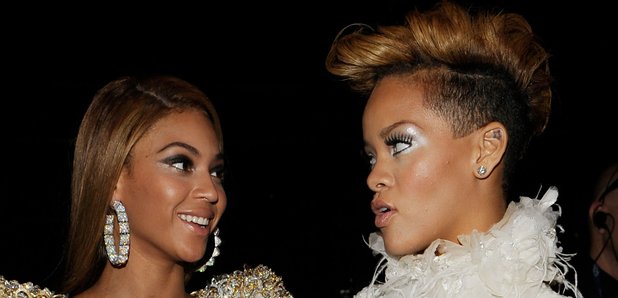 However people are confused over the origin of the song.
Beyonce and Rihanna fans are excited after a mysterious 'collaboration' between the pair appears to have leaked online.
The snippet, which only lasts 9 seconds, hears the two singers harmonising with each other over a thumping bass line.
Although the lyrics they are singing aren't clear, the voices sound a lot like Beyonce and Rihanna.
Listen to the snippet below:
. @BEYONCE FEATURING @RIHANNA???

HOLY FUCK pic.twitter.com/T3IVy3ECLX

— JONATHAN (@Jonathzn) 12 March 2018
The origin of the mysterious snippet isn't clear however fans are already expressing their excitement at hearing two of the world's biggest female R&B singers on one song.
Check out some of the best reaction below:
Some producer post this video on Instagram!!! I think his name is earth quake idk.
All I know is that I'm fucking SCREAMING and I'm calling the doctors cause my heart is fucking exploding pic.twitter.com/wfVbrN9yKD

— JONATHAN (@Jonathzn) 12 March 2018
This sounds like Rihanna, bey and Ariana Omg if it's true then it will become the biggest collaboration of all time

— S.O.S (@Soeirda101) 12 March 2018
I'm guessing it's most likely a demo.. but this would be a really hot track if they really did collab

— #theSnoopPraject (@sayySnoop) 12 March 2018
I mean let's be honest Bey and Rih collab would be the biggest collab of the century right. do y'all really think that some producer is just gonna Snapchat it and post it like that

— baddiebey (@xoxobriaex) 12 March 2018
IM SCREAMINGGGGGGGGGGGG

— Ky (@beyoncetheOG) 12 March 2018
Ok but this sounds like Rih and Bey and Ariana at the end I'm excited pic.twitter.com/QQ9YGrK5Uz

— leigh (@darkechile) 12 March 2018
UM ExCUSEEEE ME?!? pic.twitter.com/axuttFQo1P

— Yoncé Vocals (@YonceVocals) 12 March 2018
Meanwhile, Beyonce and JAY-Z have finally announced their worldwide joint 'On The Run II' tour.
The pair, who dropped a series of mysterious clues, confirmed the news with the tour's official artwork and teaser video yesterday (Monday 12th March).