Here's Why Fans Think Beyoncé Has Just Picked Her Side Between Cardi B & Nicki Minaj
13 September 2018, 12:12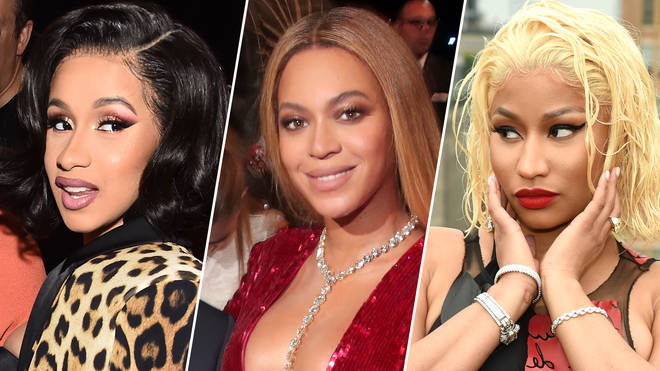 Who's Bey backing?
Ever since their altercation last week, people have been debating whether to support Nicki Minaj or Cardi B as their beef shows no signs of slowing down.
While some suggest that the rapstresses shouldn't be pitted against each other, others have been quick to pick a side - and, speculatively, people think Beyoncé has.
On Wednesday morning, the 'Crazy In Love' singer took to her website to post a reel of brand new photos taken from her ongoing On The Run II tour with Jay-Z.
During every show's performance of '99 Problems', the mug shots of a number of rappers are displayed on giant screens, and one of the photos Bey posted features the mug shot of Minaj.
Fans of the 'Queen' hitmaker took this as a sign of Beyoncé's support, suggesting that Bey chose to post that specific image in the midst of the ongoing drama on purpose.
They been showing this picture though 😂 jay actually paid Nicki to use it way before the Cardi and Nicki situation

— ohitsMonteà💦 (@OhitsMontea) September 12, 2018
That's totally right! But the thing here is that Beyoncé actually uploaded the picture last night in her website after the whole Cardi mess, and we ALL know that beyoncé will never speak of it, all she post is meaningfully, so you know!!! We got it with this picture.

— Steven Estrella (@StevEstrella) September 12, 2018
beyoncé. put. nicki's. mugshot. on. her. WEBSITE.

— hoesha (@omfgitstaffie) September 12, 2018
Back in June, Minaj revealed that Jay would be using her image on the tour, writing, "When Jay asks for your mug shot for his tour backdrop," alongside a photo of the show.
However, some fans think Bey's allegiances lie elsewhere after Cardi B posted a video of the tour's support act DJ Khaled blasting her breakout hit 'Bodak Yellow' to the crowd, with them reciting the words back.
"REAL LIFE, REAL LOVE," Cardi captioned the video. The rapstress later posted an image showing the statistics of the best-selling Hip Hop albums of 2018 so far. Cardi features at number 3, while Nicki is absent.
Meanwhile, Beyoncé's former Destiny's Child bandmate Kelly Rowland weighed in on the situation, hailing herself as "Switzerland" owing to her love for both Nicki and Cardi.