Watch Michelle Obama Rap 'Get Ur Freak On' With Missy Elliott In New Carpool Karaoke
21 July 2016, 09:44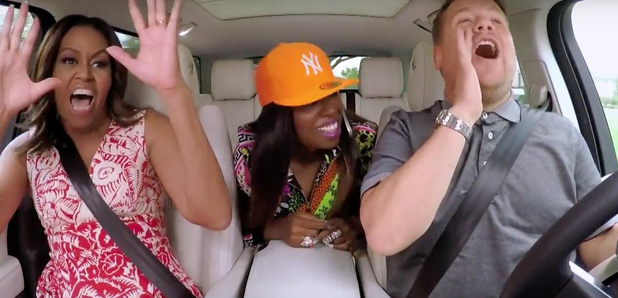 Obama also slays a Beyonce song.
First Lady Michelle Obama is the latest celebrity to join James Corden in the famous passenger seat for his 'The Late Late Show' skit 'Carpool Karaoke'.
This time around Corden took a special visit to the White House, rather than LA, where the pair sang along to hits including Beyonce's 'Single Ladies' and Missy Elliott's 'Get Ur Freak On'.
Check out the full video below:
Obama also admits that Carpool Karaoke is a big treat for her as she very rarely gets to sit in the passenger seat of car listening to music.
Thank you @JKCorden and the @latelateshow for bringing @FLOTUS home safe and sound after #CarpoolKaraoke. We were watching @SecretService

— U.S. Secret Service (@SecretService) July 21, 2016
However the biggest moment comes when Missy Elliott pops up in the backseat during a rendition of Obama's song 'This Is For My Girls'.
Missy raps her verse on the track and then slays a performance of 'Get Ur Freak On' alongside Obama and Corden.
Last year James Corden was joined by A$AP Rocky, Jennifer Hudson, Iggy Azalea, Stevie Wonder and more brilliant guests for 'Carpool Karaoke.'