Beyonce Fans Reveal The Real Origin Behind 'On The Run II' Poster Following Kim Kardashian Comparisons
13 March 2018, 14:57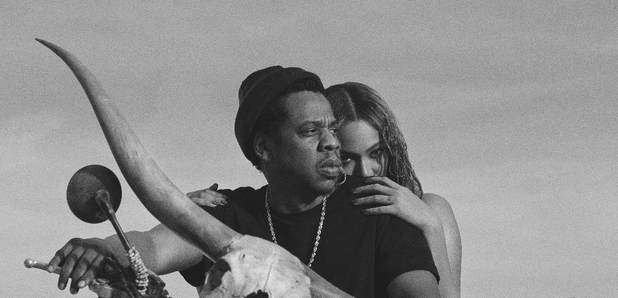 Beyonce was accused of copying Kanye West and Kim Kardashian.
Beyonce fans have uncovered the real origin behind Beyonce and JAY-Z's stunning 'On The Run II' tour poster, following comparisons with Kanye West and Kim Kardashian.
After the power couple dramatically announced their long-awaited tour yesterday (12th March), some fans believed the official artwork was heavily influenced by Kanye West's 'Bound 2' music video.
JayZ and Beyonce trying so hard to reenact Kanye and @KimKardashian from the bound 2 music video for the new concert promo #OTRII #KanyeDidItFirst

— Joe Drake (@JoeDrake716) March 12, 2018
Why does it look like Jay Z & Beyoncé are about to drop a country version of Bound 2? pic.twitter.com/D4vlBerCL4

— Julia Hauser (@juliababoolia) March 13, 2018
Bound 2 & OTR 2 pic.twitter.com/VCiAAKtuw4

— Nailah West (@Shyeezy_) March 12, 2018
However fan group Beyonce Legion have revealed that Beyonce and JAY-Z's tour post was in fact a direct reference to 1973 Senegalese movie Touki Bouki.
#OTRII tour poster references "Touki Bouki," a 1973 Senegalese film about two lovers who steal money and clothing, then book passage to Paris to start new lives. It's considered an African cinema classic. pic.twitter.com/l64KjxzAw0

— BEYONCÉ LEGION (@Bey_Legion) 12 March 2018
The movie, directed by Djibril Diop Mambety, is about the story of two lovers, Mory and Anta, who attempt to escape their Dakar home for a new life of glamour in Paris.
In the film, Mory rides his motorbike with a bull-horned skull attached to the handlebars, which was referenced in the 'On The Run II' artwork.
The theme follows Beyonce and JAY-Z's running Bonnie and Clyde theme that began with 2002 song '03 Bonnie And Clyde'.
Meanwhile, tickets for JAY-Z and Beyonce's 'On The Run II' tour officially go on general sale on 19th March.