Kim Kardashian Accused Of Copying Beyoncé In Her Naked Photoshoot
30 November 2017, 11:51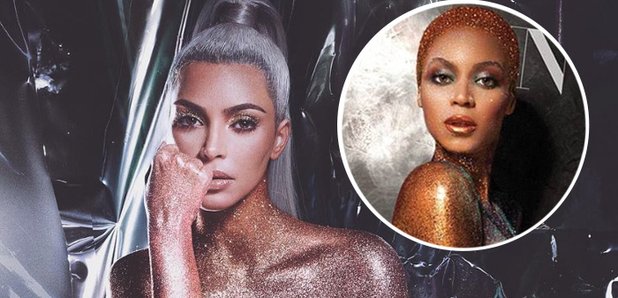 The reality star stripped off for her new beauty campaign.
Kim Kardashian has been accused of copying Beyoncé in her latest photoshoot.
The beauty mogul recently covered her naked body in glitter to promote her upcoming KKW Beauty Ultralight Beams highlighters and glosses, which are releasing this Friday.
However, after the reality TV star posted a series of racy behind-the-scenes snaps from the shoot, rumours emerged that Kim's concept was not entirely original.
Eagle-eyed social media users suggested that Kim's photos bore a striking resemblance to those of Beyoncé's cover shoot with Flaunt magazine in 2013.
In the image, the 'Walk On Water' singer's naked body is coated in gold glitter as she she poses in front of a similarly metallic surface.
The unmistakable similarly was picked up on by fans, who labelled Kim as a "wanna be Beyonce".
@Beyonce covers Flaunt Magazine in nothing but bronze glitter! pic.twitter.com/08CSzHmmGl

— jerick (@jrkvsl_) 10 July 2013
The 37-year-old reality star, who previously claimed she would stop releasing nude photos, is yet to respond to the rumours.
Interestingly, the rumoured feud between Beyoncé and Kim appeared to have cooled off after the pair were spotted together at mutual friend Serena Williams' wedding this month.
Meanwhile, Kardashian's brand new perfume collection, KKW Fragrances, sold out in just six days and made over $1m after just one hour of its launch last Wednesday.