Did Jay Z Just Get Caught Whispering Something Naughty Into Beyonce's Ear?
1 July 2014, 21:51 | Updated: 1 July 2014, 21:53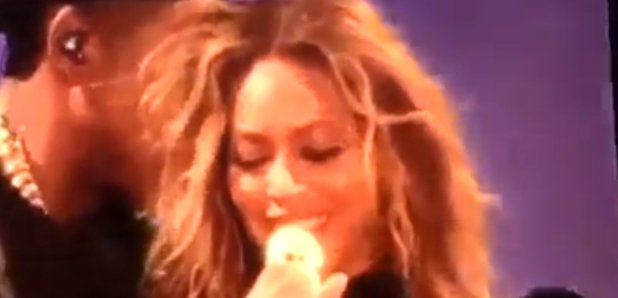 That awkward moment when everyone sees you sweet-talking your girl.
It has been a few days now since Beyonce and Jay Z kicked off their 'On The Run' tour in America, but footage of an intimate moment between the couple has just surfaced online.
It shows Jay Z whispering something into his wife's ear during 'Drunk In Love' and fans are speculating that the rapper might have been saying something dirty.
Watch the moment Jay whispered in Beyonce's ear below.
While we will probably never know what was said, Beyonce's reaction - a little nudge with her elbow at Jay and a smile - appears to suggest that she found it funny.
The crowd at the stadium in Miami certainly wanted to know what Jay was saying, as did Bey's fans.
Jay Z whispered in Beyoncé's ear during "Drunk In Love" and I saw the Holy Ghost

— Emma Hunko-Haynack (@EmmaHunko) June 29, 2014
I wanna know wtf jay z be whispering in beyonce's ear. Hmm gotta have lunch and ask her

— BaddieBri (@fashionBRIsta) June 29, 2014
Meanwhile, Bey's just thinking something like this.

(via Giphy)