This Girl Gave Her Boyfriend A 'Beyoncé' Exam To See If They Were Compatible
7 April 2015, 12:18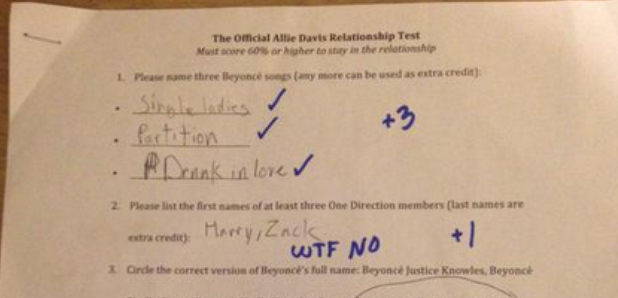 Can't we all just take Beyoncé exams at the University of Beyoncé, graduate and work for Beyoncé Ltd?
Forget about having similar ideals, goals and visions for the future - the only question any Beyoncé fan really needs to ask when considering whether or not their potential other half is compatible is this; "Do they know enough about Beyoncé?."
Because if the answer is no, there could be a problem.
At least that's what one Beyoncé super-fan thinks. Twitter user @Fergyonce posted a photo of a homemade exam she gave to her boyfriend as a test to see if they could "stay together."
I gave my boyfriend a Beyoncé exam to make sure we can stay together. He passed. pic.twitter.com/Lqv3VEKWFx

— Yoncé (@Fergyonce) April 6, 2015
Questions include 'Circle the correct version of Beyoncé's full name' and 'Briefly explain the Solange Knowles elevator incident."
The rules of the exam clearly state that a score of 60% must be achieved to stay in the relationship. Thankfully, we can report that he passed with a score of 80%.