WATCH: Did This Woman Actually Just Compare Beyoncé To Donald Trump?
11 October 2016, 14:32 | Updated: 11 October 2016, 14:37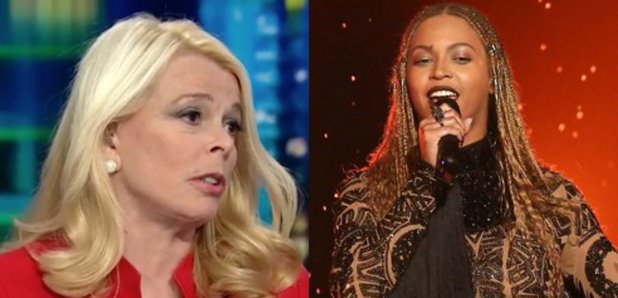 The BeyHive are going in.
Donald Trump supporter Betsy McCaughey attempted to cite Beyonce's 'Formation' whilst labelling Hilary Clinton guilty of 'hypocrisy'.
During a recent 'CNN Tonight' show, McCaughey tried to make comparisons between Clinton's appreciation for Bey's lyrics, and the democrat's disgust at Trump's discriminative comments in video from 2005.
McCaughey cited Queen Bey, saying "I came to slay, b*tch. When he f**ed me good I take his ass to red lobster."
Watch the video below:
"All that, and a @Beyonce reference," said @donlemon. Here's the @Betsy_McCaughey moment our host was referencing https://t.co/n1xzb7QtJZ

— CNN Tonight (@CNNTonight) October 11, 2016
Presenter Don Lemon was clearly confused by the supporter's actions, looking visibly baffled.
McCaughney made a very loose connection between Hilary's support of Beyonce - who uses expletives within her music - and Clinton's previous comments on the Trump video.
Twitter users were quick to comment on interview.
A Trump supporter just tried to use Beyoncé lyrics AGAINST Hillary Clinton on CNN and I am pic.twitter.com/dNlD9thMNC

— Sam Stryker (@sbstryker) October 11, 2016
@CNNTonight @Beyonce @donlemon @Betsy_McCaughey @CNN Betsy couldn't hide her racism tonight raging agst rap. U know they swear in rock too

— Maggie Gosia (@maggiegosia) October 11, 2016
@CNNTonight @Beyonce @donlemon @Betsy_McCaughey @CNN Trump and his supporters are so desperate. This was really pathetic.

— Musa Kromah (@Musakromahh) October 11, 2016
@Delo_Taylor @emjay505 @CNN Last time I checked, Beyonce wasn't asking to be in charge of an entire country.

— Shelley:Stocken (@shellity) October 11, 2016
Beyonce is yet to comment on the video.
In related news, Bey has just been nominated for four American Music Awards, including Artist Of The Year.
The awards occur on 20th November this year.