Destiny's Child Reunited To Perform 'Say Yes' Last Night At The Stellar Gospel Music Awards
29 March 2015, 12:19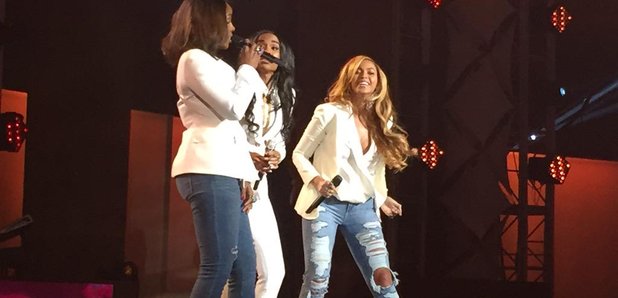 For the first time since their 2012 Super Bowl performance.
Destiny's Child reunited last night (28th March) to perform live alongside each other for the first time since their Superbowl half time performance two years ago.
Beyoncé, Kelly Rowland and Michelle Williams all took to the stage the at Stellar Gospel Music Awards in Las Vegas to perform Michelle Williams latest song 'Say Yes,' which both Kelly and Beyoncé provide vocals on.
Although the full awards ceremony doesn't air until 5th April in the US, snippets of the band's reunion can be seen through footage taken by the audience at the ceremony.
Just like in the good old days the three friends coordinated their outfits, wearing jeans and white blazers, as they opened the show.
"When three good girlfriends are together, you're free and you don't care who's around," Michelle told E! News. "You're just trying to catch up and be goofy. I had a blast."