Adele Made Beyoncé Cry After Dedicating 'Album Of The Year' Grammy To Her - WATCH
13 February 2017, 07:19 | Updated: 13 February 2017, 08:09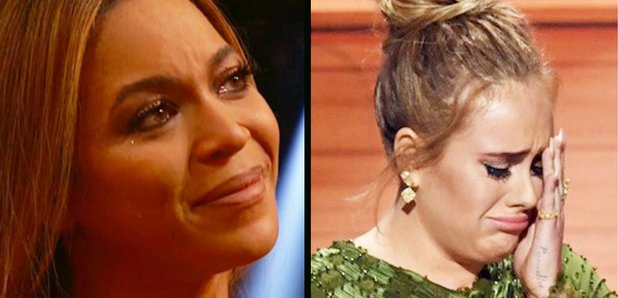 Adele made an incredible speech.
There were tears at the Grammy Awards last night (12th Febraury) as Beyoncé lost out on winning the 'Album Of The Year' award for the third year, this time to Adele.
Sadly, Kanye West was not there to interrupt Adele like he did Taylor and Beck - but it didn't really matter, because Adele ended up Kanye-ing herself.
Beyoncé watched on with tears in her eyes as Adele admited Beyoncé should have won, saying; "My artist of my life is Beyoncé and this album to me, the Lemonade album, is just so monumental."
Watch the full speech below:
Backstage Adele explained why she wanted to dedicate her speech to Beyoncé; "My album of the year is Lemonade, She is my icon of my whole life."
.@Adele talks about Beyoncé & #LEMONADE backstage. #GRAMMYs pic.twitter.com/E3u2nBbps3

— BEYONCÉ LEGION (@Bey_Legion) February 13, 2017
Beyoncé, according to Adele's own words, took the loss graciously and the Beyhive seemed to appreciate Adele's sentiment.
I worship women who are smart, strong and stupid talented. I love the admiration and respect Adele showed for Beyonce's work. #Grammys

— Robin Thede (@robinthede) February 13, 2017
Adele is basically apologizing to Beyonce for winning. That's extremely classy.

— Jemele Hill (@jemelehill) February 13, 2017
I appreciate Adele, her work & her acknowledgement of how truly once-in-a-lifetime Beyonce's LEMONADE is, especially to black women.

— Janet Mock (@janetmock) February 13, 2017
Beyonce has been nominated for Album of the Year three times; she's lost to Taylor Swift, Beck, and Adele.

— nat adderley (@natalieweiner) February 13, 2017