Beyonce Interviewed Solange & Revealed The Real Meaning Behind 'Cranes In The Sky'
11 January 2017, 11:17 | Updated: 11 January 2017, 11:26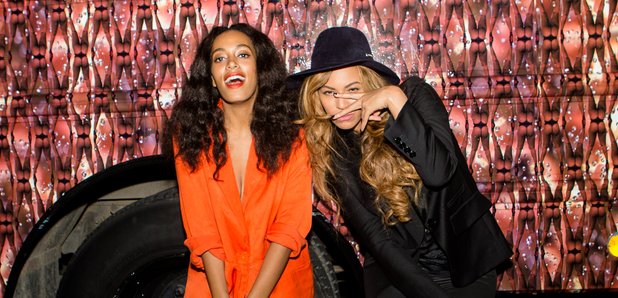 This is all kinds of amazing.
Beyonce has interviewed her younger sister and fellow singing sensation Solange Knowles.
The discussion, published for Interview Magazine, sees the famous siblings chat about everything from music, fashion and Solange's game-changing album 'A Seat At The Table' to female empowerment, childhood memories, Master P and more.

"Well, it is a bit strange, because we're sisters and we talk all the time," began Bey.
"But I'm so happy to interview you because, clearly, I'm your biggest fan and I'm super proud of you."
In the candid interview, Solange opened up about her standout single 'Cranes In The Sky', revealing the song was written eight years ago.
She went on to explain that she had just broken up with father of her child and was batting with self-doubt, pity and emptiness. Seeking refuge, she moved to Miami to record new music.
"I remember looking up and seeing all of these cranes in the sky," she said. "They were so heavy and such an eyesore, and not what I identified with peace and refuge.
"I remember thinking of it as an analogy for my transition—this idea of building up, up, up that was going on in our country at the time, all of this excessive building, and not really dealing with what was in front of us."

Solange also revealed the story behind her critically acclaimed album 'A Seat At The Table'.
"For this record specifically, it really started with wanting to unravel some truths and some untruths. There were things that had been weighing heavy on me for quite some time," she explains.
"And I went into this hole, trying to work through some of these things so that I could be a better me and be a better mom to Julez and be a better wife and a better friend and a better sister."
The star also shot a series of stunning warm-toned editorial photos for the interview.
When your serious face slays and is everything!! Okay Solange! pic.twitter.com/REoUbbmZV4

— xoNecole (@xonecole) January 10, 2017
Beyonce confessed that the album, which features samples of the sibling's parents speaking openly about their personal experiences, "brought tears to [her] eyes."
After the 'Lemonade' singer enquired as to why she chose Master P to speak on the album, Solange explained she found "similarities" between the rapper and their father, Mathew Knowles.
"They also have an incredible amount of love and respect for one another," says Solange.
"And I wanted a voice throughout the record that represented empowerment and independence, the voice of someone who never gave in."
You can read the full interview between Bey and Solange here.