Did The CMAs Really Delete All Mentions Of Beyonce After Racist Backlash?
4 November 2016, 11:22 | Updated: 4 November 2016, 11:23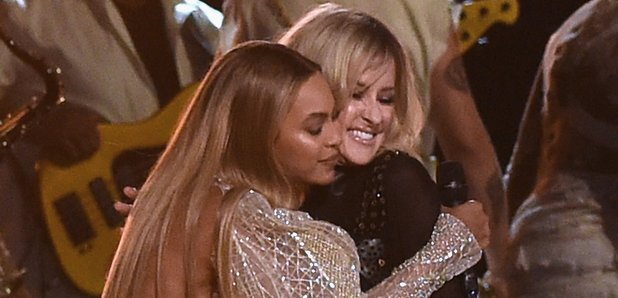 The CMAs have officially responded.
Following Beyonce's huge performance of 'Daddy Lessons' alongside Dixie Chicks at the Country Music Awards, the footage mysteriously disappeared from their website.
According to TMZ, the association were forced to remove Queen Bey's performance after a huge racist backlash from country music fans.
Some supporters voiced their anger at Beyonce, labelling her a "cop hater" and a "racist".
No Way does that beyonce HAS A RIGHT TO BE ON THE CMA'S COP HATER AND BLACK INSTIGATOR!

— D.R. Cummings (@DseasRoss) 3 November 2016
#Boycott @CMA since it wants to have a cop hater like @Beyonce on our country music show. She's not ruining our music.

— Barbara Platt (@blp3) 3 November 2016
Why is that racist cop hater @Beyonce wrecking my @CountryMusic experience. And god i hate the @dixiechicks as well. Both anti liberals

— kfals (@kfalsTI) 3 November 2016
#CMAawards50 : Why is there a racist cop-hater on my TV right now??? #Beyonce

— MN_Conservative (@MN_Conserv) 3 November 2016
The backlash didn't go unnoticed by Dixie Chicks, who tweeted their support for Beyonce.
"If we all turn this up really loud, together we can drown out the hate," the band tweeted from their official account.
If we all turn this up really loud, together we can drown out the hate. https://t.co/PWJcDeNmuR

— Dixie Chicks (@dixiechicks) November 3, 2016
The video was subsequently removed from the CMAs website.
However the Country Music Awards have now officially responded.
"CMA has not erased any mentions of Beyoncé's performance on the CMA Awards," they said in a statement to US Weekly.
"In advance of the broadcast, CMA removed a five-second promotional clip from ABC.com and CMA's Facebook page.
"The promo was unapproved and CMA removed it prior to the broadcast.
"Beyoncé's performance with Dixie Chicks was a highlight of the evening and we are continuing to share the amazing full-length performance clip via our official social channels."
Watch Beyonce's epic collaboration with Dixie Chicks here.